It can be difficult to cater for picky eaters, family events and get-togethers can be a challenge when trying to find dishes to prepare that suit everybody.
How Can You Cater For Picky Eaters?
Although it can be challenging, it's important that you try to serve food that everyone likes. It will save you time, satisfy your guests and minimise the amount of food waste. Picky eaters vary, often it's younger children, but some adults never grow out of the habit – or simply just don't like the taste or texture of certain foods.
Being fussy because of textures and tastes are two different forms of fussy eating. Textural fussy eating often starts from a young age when children prefer soft pureed foods and don't like the transition to solids – and this can stick for life if not addressed at a young age. Picky eaters who simply don't like the taste of certain foods are harder to address, as there's nothing you can really do to force somebody to like the taste of a food. One of the best things you can do in this case is to minimise the amount of the food incorporated into meals, or to try and overpower the taste with other ingredients.
Fussy eaters can make you dread hosting family get-togethers, which is why we have devised these top tips on how you can cater for picky eaters. With years in the food industry, we have had our fair share of picky eaters and can now understand the process better. So if you need some tips on how to cater for fussy eaters – keep reading!
Always Serve A Variety Of Dishes
Although it could be easier for you to prepare slow-cooked chilli con carne to dish out to the entire family – it may not be everybody's cup of tea. It's always important that when catering to a large number of guests you offer options and alternatives. Although family are family, you may not always be aware of what every single person likes and dislikes. And in the case of guests you are not familiar with, you are going to have no idea of any preferences or dietary requirements unless you are informed.
Offering options and a variety of foods minimised the chance of somebody not being able to eat and ensures that everyone will have something to eat and enjoy. It can be hassle preparing 5 different full blown meals, which is why we recommend preparing a variety of smaller dishes for your guests to pick at and try. One of the best ways to do this could be preparing something like tapas. Tapas originates from Spain and is a series of alternate dishes to pick from including things like patatas bravas, smoked meats, chorizo and vegetable dishes. So not only are these dishes simple to prepare in large quantities, but they suit all dietary requirements!
Some other simple dishes to make could be omelettes or pancakes and give your guest a choice of things to put in or toppings – you could also make the experience fun by allowing your guests to cook these themselves. Remember with certain dishes that they will all have different spices, so if you are servicing something spicy be sure to serve a mild and non-spicy option in order to cater to all guests.
Ask Guests To Contribute With Their Own Dishes
Many people when hosting events or get-togethers feel rude asking others to bring dishes to contribute. Although a lot of the time your guests will arrive with either drinks or a dish to contribute. At barbecues, a lot of the time guests bring along salads or pasta dishes to use as a side. This can be really helpful as rice and pasta dishes are often popular with fussy people and can be teamed with foods that they do like.
If you have a fussy friend or guest with dietary requirements be sure to let them know what you are preparing and if there's anything they would like to bring along. Clients who use our catering services Buckingham are often provided with a menu and pricing in which they make us aware of any allergies or food intolerances.
Dishes To Build Your Own Meal
This often works well with guests. Build your own meal stations allow guests to choose the ingredients included in their meal and gives them the choice of what they do and don't include. It also allows them to add sauces of their choice and dish up sides.
Some really good examples of these food stations would be tacos. Tacos are perfect for everybody as you can do so many things with them. Vegetarians can opt for a 3 bean vegetarian filling; meat lovers can stick with deliciously spiced ground beef. And then fussy eaters can choose or not whether to include salads and sauces. Another fun idea would be to allow your guests to choose their own pizzas. Either prepare the dough yourself or purchase readily rolled pizza bases and let your guests to choose from a variety of base sauces and toppings. An old favourite for family get togethers, and large-scale events are fajitas which require the same process as tacos and allow guests to tailor their meal specifically to them.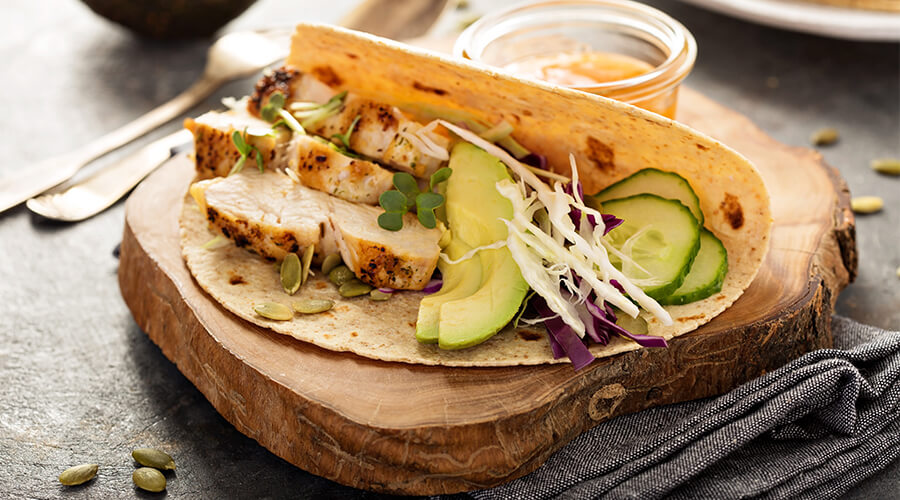 Leave Sauces And Dressings As An Add-On
A common issue with picky eaters is that their favourite dish either contains or is drizzled with a sauce that they don't particularly like. Often when preparing things like burgers, sauces are automatically included as part of the recipe – this could be a mistake if your guests are picky eaters.
Prepare a table which holds sauces and dressings to be added to meals rather than putting them on. This way the guests who like sauces can go and add them themselves, and those who don't don't have to add anything. This can even apply to salads, avoid adding any dressings or added sauces and merely include a dressing bottle on the sauces table.
Feed Even The Pickiest Eaters Using These Tips!
As full-time caterers, we can guarantee that by following these steps, you can tailor your menu to even the fussiest of eaters! If you are holding a seasonal or festive event be sure to book in Christmas party catering Oxford in advance to secure your date! Sometimes for large-scale events, it can be easier to hire somebody to cater for you rather than to carry out the time-consuming job yourself – keep that in mind when organising your next event!
We hope that this article was helpful, if it was then why not share on social media?