Although the current weather may not suggest as such, Summer is just around the corner; which means we should hopefully get to enjoy some slightly warmer days. As soon as the weather improves and the sun comes out, your time will undoubtedly be best spent outdoors basking in those rays.
Summer is a great time of year to make use of your garden and have friends over to enjoy the balmy afternoons and evenings. Having provided private events catering in Oxford and the surrounding areas for many years now, we've seen it all, so have compiled a list of some of the best ways people have transformed their gardens for parties. Take a look at the following cool garden party ideas and get planning!
1. Create A Bar Area
2. Summer Decorations
3. Get Caterers In
4. Outdoor Games
5. Creative Table Settings
6. Picnic Style
7. Create A Photo Area
8. Light The Way
Cool Garden Party Ideas
While everyone loves a good BBQ, they can often become a tad repetitive throughout the Summer months. With this in mind, it's time to mix things up a little and plan a garden party to remember – we promise with these ideas, your event will stick in your guest's minds for a long time to come. Simply choose the ideas that work for you, or go the whole hog and implement the lot – either way, get ready to host the garden party of the Summer!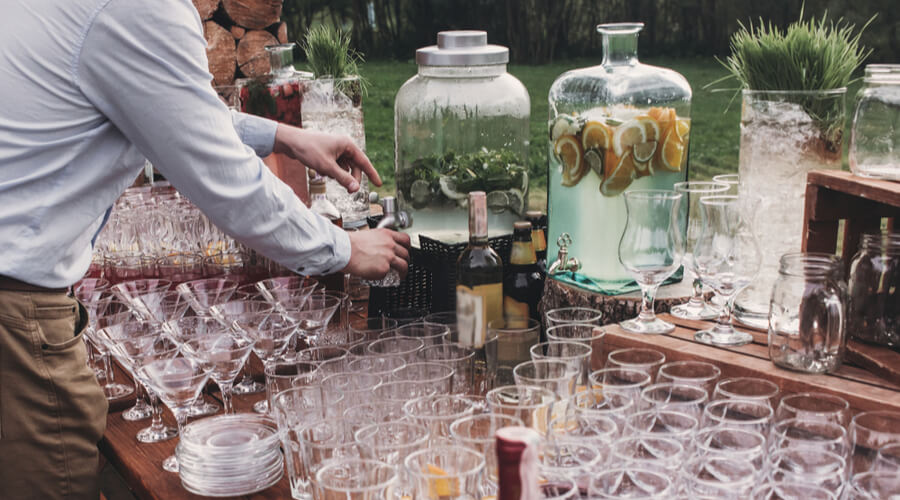 1. Create A Bar Area
Everyone loves a good beverage at a garden party, so a bar area makes perfect sense. There's no need to do anything fancy; instead, why not get creative and make something unique to serve your drinks from? Woohome have a fab article on different outdoor bar ideas, from a wheelbarrow filled with ice to stacked up crates; all perfect for those on a low budget and ready for a bit of DIY.
Once you've got your bar in place, it's time to think of drinks. If you're going to have alcoholic drinks for the adults, why not ditch the ice cubes and opt for frozen prosecco soaked grapes – also known as Grapesicles! Follow this tutorial from delish and have them ready in no time at all. If you want to ease up on the booze, you could make some pretty edible flower ice cubes, like these from Live Eat Learn; they'll look fab in any drink. Staying on the flower theme, if cocktails are going to be on the menu, make some gorgeous flower stirrers to accompany your guest's drinks. The perfect Summery touch!
2. Summer Decorations
This is an easy one, no matter the shape or size of your garden; summery decorations will help set the scene for your garden party. Bunting continues to be a great decoration no matter what the occasion, but its whimsical, Summer fete aesthetic lends itself perfectly to a garden party. Check out the range from The Cotton Bunting Company, for a great selection of colours and patterns.
If you have some overhanging trees, adorn them with some pom poms or paper honeycombs – Decopompoms have a fantastic range of decorations for outdoor use. If you're getting the paddling pool out for the kids (or the grown-ups come to that), then inflatables are a great idea to get everyone in the summer mood. We absolutely love the collection from Amara; who could resist a giant ride on Llama float?!
3. Get Caterers In
If you want to fully relax and enjoy yourself, getting outside caterers in is always a great idea. It may seem a little lavish, but trust us, our clients always say it's one of the best decisions they made once the day of the event comes round. Having professionals to prepare and serve food will take a huge weight off your shoulders, allowing you to enjoy the day, chat with friends and have a drink or two without worrying about feeding everyone. We recently provided our street food menu for a couple wanting special occasion catering in Towcester, for a birthday bash. The menu perfectly complemented the festival style garden party vibe and we loved catering for all of their family and friends. We may be a little biased, but promise that caterers will make your life a whole lot easier during your garden party.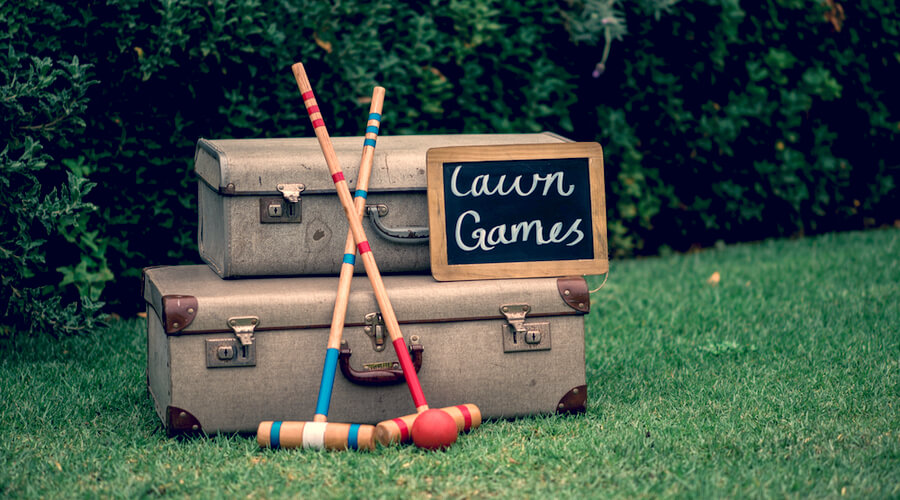 4. Outdoor Games
Nothing screams 'garden party' like a set of lawn games! Whether you'd like to host an English themed afternoon tea party and crack out a croquet set, or go old school and invest in a giant Connect 4; outdoor games are a great addition to any garden party. Games are guaranteed to provide entertainment and be fun for all ages, so we'd highly recommend including this idea in some form or another. Take a look at Big Game Hunters for a huge amount of games to use outdoor; from giant Jenga and Chess to rounders sets and big board games – you're sure to find something to suit your theme.
5. Creative Table Settings
If you're looking to host a slightly more formal garden party and want everyone to have a seat, this gives you a perfect chance to go all out with the table settings. Hire or buy some simple trestle tables and cover them in settings that even an event planner would be proud of! Use the tables as a blank canvas to decorate with your chosen theme or colour scheme. Why not fill the centre of the tables with flower heads, leafy garlands or jars filled with seasonal stems for a stunning finish; along with unique placemats, coloured plates and napkins to provide the perfect place settings for your guests. Country Living have collated 25 fab summer party table setting ideas if you're in need of a little inspiration.
6. Picnic Style
For a more informal vibe, why not create a picnic style setting for your guests to eat and drink on? This is a great idea if you have kids attending, as it provides a more relaxed space for children and parents alike. Collect some rugs, beanbags and cushions to provide lots of comfy seating for your guests and finish this with a central eating area in order to avoid drinks from being spilt. This is easily achieved through the use of low crates – turn them upside down to create a rustic aesthetic and stable place for guests to rest their food and drinks on. Surround them with some of these amazingly vibrant cushions from Chloe Croft London, many of which are suitable for outdoor use, and you'll have the ultimate summer picnic area.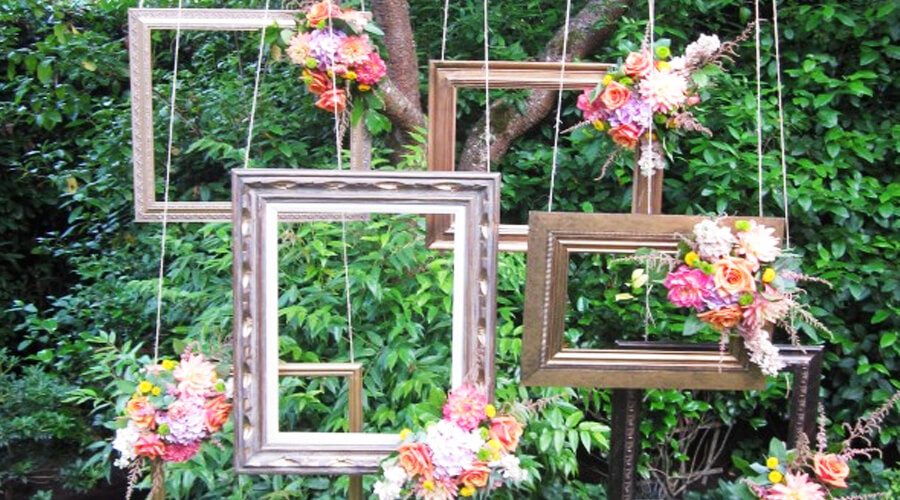 Photo Credit: Deer Pearl Flowers
7. Create A Photo Area
If you're planning the garden party of the year, you'll need to document the event, so you're left with lasting memories of the day. If you have a spare brick wall, why not take the time to create a flower wall? It's not the easiest task, but believe us when we say; it'll be worth it. Real flowers aren't always necessary, so don't worry about shelling out on fresh blooms for the day. Follow this tutorial from Lust Living, and create a beautiful faux flower wall feature that will not only look amazing on the day, but will also be there for future events as and when you need it.
If you have a tree or any low hanging branches, gather together some old photo frames or pop down to your local charity shop to pick some up at an affordable price. Using some hardwearing string or twine, loop them around the branches so the frames hang from the tree, creating the perfect outdoor spot for photos and a unique focal point. With all of the photos being taken, you'll need some props to go with them! Photobooth Props have a fab range, from arrow boards to speech bubbles – choose something fun and let the photography commence.
8. Light The Way
Once the evening draws in and things start to wind down a little, it's a good idea to have some chilled music and lighting prepared for your guests to enjoy. String lights can be draped over trees and walls, providing a lovely backdrop when darkness begins to creep in. Check out the range of outdoor lights from Lights 4 Fun and get some inspiration; we love the festoon light bundle and warm white fairy lights.
If you have any paths in your garden, why not line them with jars full of tealights? Not only is this a super affordable way of providing some extra lighting through the evening, but they also create a lovely ambience as the day draws to a close. Check out Hobbycraft for a range of candles and jars to create this look with ease.
Get The Garden Party Started
Hopefully, armed with these ideas, you're well on your way to throwing a garden party to make the neighbours sufficiently green with envy. Don't just opt for the standard BBQ this year, get a little creative and throw in some of these finishing touches to host a really memorable event. A few decorations, some games, candles and delicious food can make all the difference, trust us! Take the time to put some of these in place and we promise you, your garden party will be hard to beat. For any more information on our catering and menus, we'd love for you to get in touch, so we can help take some of the stress away.