Summer is just around the corner and chances are, you're dusting down the BBQ, getting out your most fetching apron and are ready to get your cook on for the first garden party of the season. BBQ's present the perfect opportunity to extend the invitation to a larger group than you would usually entertain for, as your guests can all spread out across the garden while soaking up those rays.
Larger groups, however, do prove to be a little tricker to cater for, as you'll have to consider cooking space on the BBQ as well as the time you want to spend slaving over the coals. Fortunately, there are so many great BBQ food ideas for large groups out there, allowing you to display your best culinary talents while wowing your guests with tasty food for all group sizes.
Tasty BBQ Food Ideas For Large Groups
We hope you're hungry because what you're about to read is guaranteed to have you drooling and ready to dig out your BBQ utensils whether the sun is out or not. While many of these dishes involve the use of a BBQ, a few can be made in your kitchen to free up precious grilling space; a great tip if you're catering for a large group of diners. We've searched the recipe books and found something for everyone, whether you're a beef lover, seafood fanatic or staunch veggie; take a look and see which dishes tickle your tastebuds the most. Firelighters at the ready – let's get going!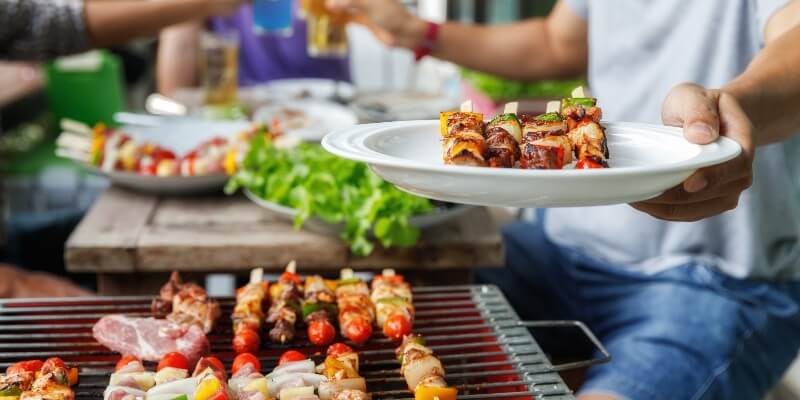 A BBQ wouldn't be a BBQ without a burger, wouldn't you agree? Which is why this particular dish features at the top of our list. We love being a little inventive here at The Rub, so have taken the classic cheeseburger and given it our own little twist. As far as burgers go, there are a fair few components involved, making them less than ideal if you're catering for a large group. Once you've got all of the patties on the grill, you'll probably find that your cooking space has significantly diminished, meaning that you'll either have to stick to feeding your guests just burgers or wait until they're cooked before you move onto something else.
To get around this, instead of going for the traditional burger, grab some BBQ skewers and load them up with pieces of ground beef, tomatoes, pickles and onions before cooking them on the BBQ, covered in melty American cheese. Not only will they free up a lot of space on the BBQ, but there's also no need to prep any other ingredients or have burger buns at the ready – and your guests will love the novelty too! This recipe from Rachael Ray looks great if you fancy whipping some up of your own.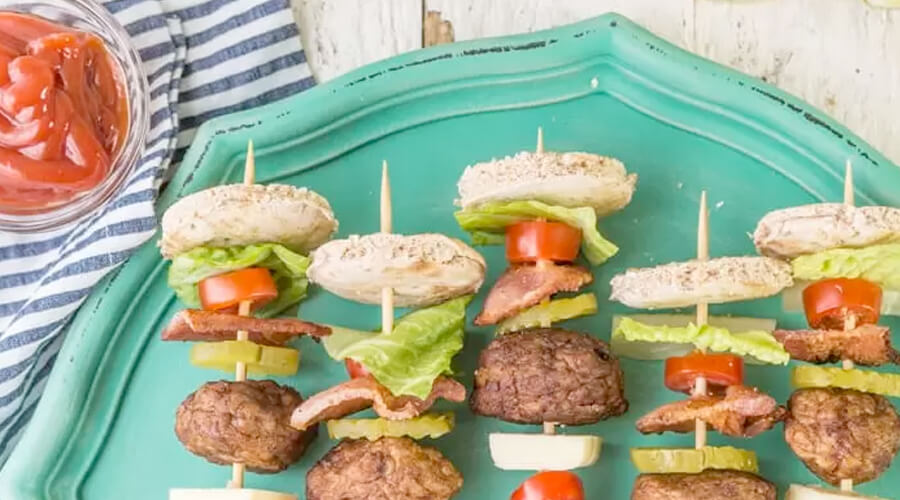 Photo Credit: The Cookie Rookie
No summer get-together is complete without some deliciously sticky, rich BBQ chicken thighs and drumsticks. The super tasty baked BBQ chicken recipe by Sweet & Savoury Meals promises meat that is perfectly crispy on the outside yet juicy on the inside. And even better, this dish can be prepared the evening before, marinated overnight and then cooked in your oven, helping to save space on your BBQ grill. This recipe will most definitely go down a storm!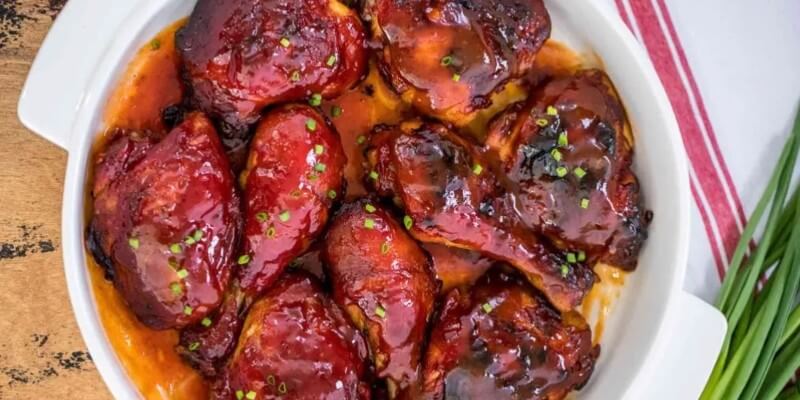 Photo Credit: Sweet & Savoury Meals
Next up is another tasty chicken dish. While these don't sound like the most exciting things to serve up, they are a definite crowd pleaser and easy to prepare in big batches. When it comes to chicken, we recommend cooking them in the oven first to ensure that they are cooked throughout – no one wants to give their guests food poisoning after all! Finish them on the BBQ to give them that delicious smoked taste and we doubt people will even know the difference. These can be put together so quickly and marinated overnight to allow each wing to soak up as much flavour as possible. Keep a little of the sauce aside so you can coat them again once they're on the BBQ to give them a lovely gooey finish. Follow this recipe from Jamie Oliver for the ultimate chicken marinade.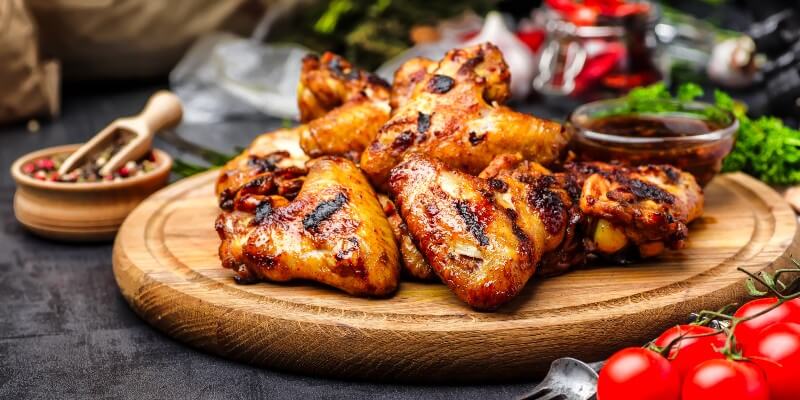 Again, super easy to prepare for large groups but they look great and will be a hit among those that prefer to stay away from meat. This recipe from Natasha's Kitchen includes a yummy cajun and garlic marinade, giving the finished shrimps a tasty kick. These smaller skewers from Sous Chef are perfect if you'd like to serve them as canapes, or as sides to a larger dish.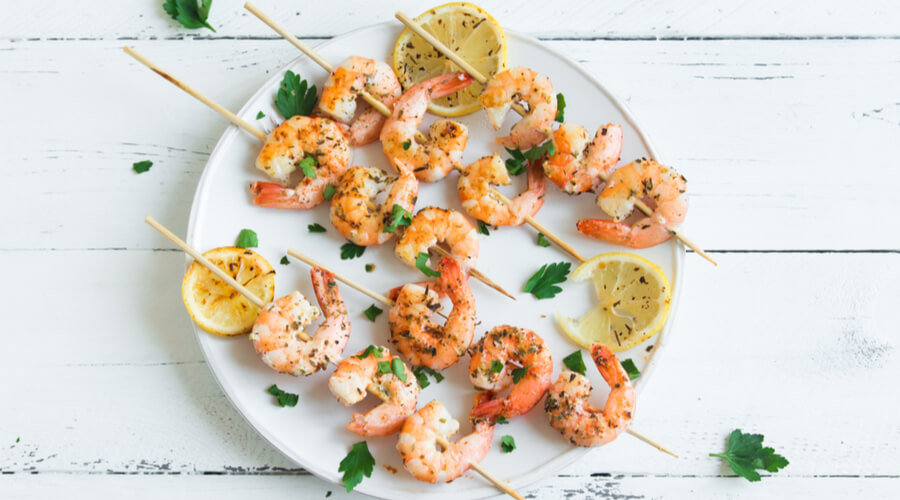 Another one for the veggies and a BBQ favourite across the pond – Mac 'N' Cheese may seem like more of a child's dinner, but it is actually incredibly versatile and provides the perfect accompaniment at a BBQ. Keep it simple, or add in bacon pieces and different kinds of cheeses if you'd like to put your own twist on it. Take a look at this recipe from Amazing Ribs and cook up a killer mac 'n' cheese – they dub this dish the ultimate wingman for a BBQ and we couldn't agree more.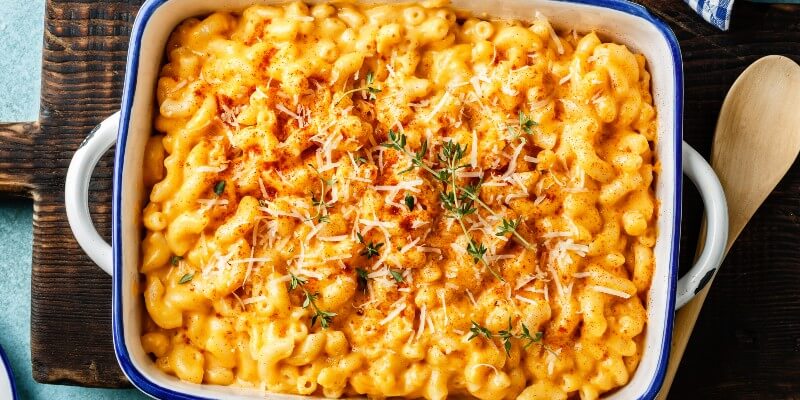 All you'll need for this one is a few rib-eye steaks and some accompanying tortillas once they're ready; along with any other tasty fillings you'd like to provide your guests with. Seal the steaks in a pan with your marinade of choice, before cooking them to your liking on the BBQ for an unmistakable charcoal taste. Once they're done, slice them up into strips and serve them up to your hungry diners – they can then fill their fajitas with whatever fillings their hearts desire. Some of our favourites have got to be guacamole, salsa, soured cream and grilled pepper strips – finished with a squeeze of fresh lime – you can't go wrong!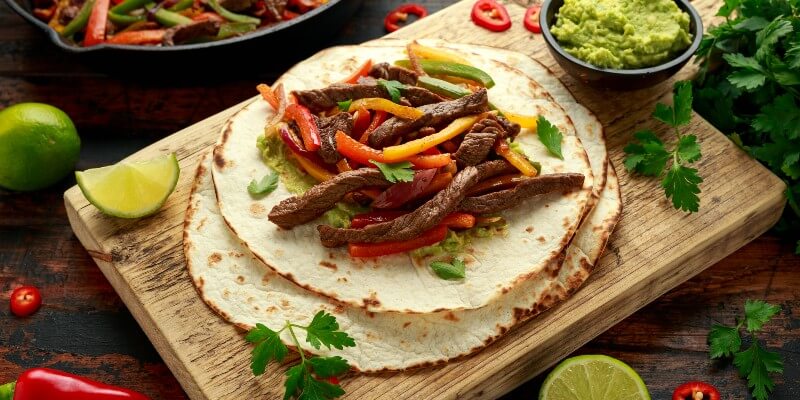 This has got to be one of the most requested BBQ dishes on our private events catering menu – and we can totally see why. Not only are they a fantastic option for larger parties, they're also always a hit with guests and fill even the loudest of rumbling tummies. If the thought of catering for a large group at an upcoming BBQ makes you want to run and hide, why not give our team a call who can provide a bespoke BBQ menu just for you. Choose our popular pulled pork brioche buns and finish them off with some delicious spicy rice salad and seasoned fries – check out our menus to get more of an idea of the storm we can cook up for you and your guests.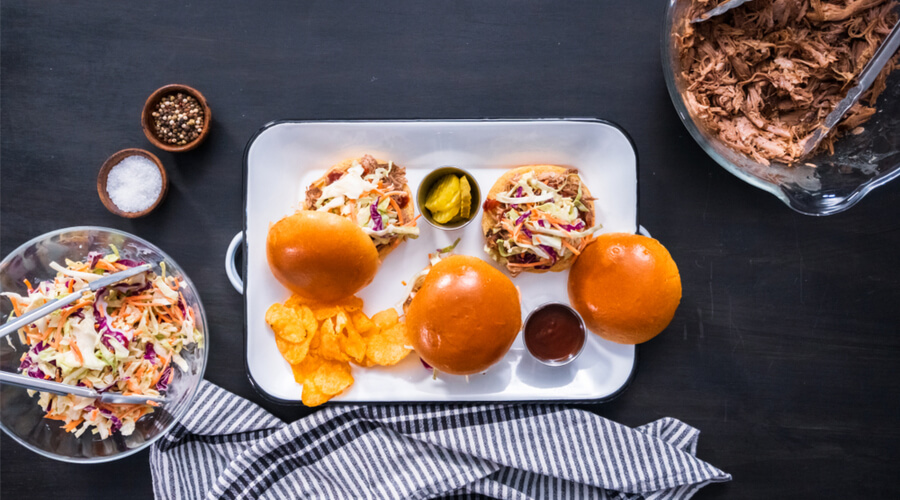 Going back to a tasty fish dish and one that may not immediately spring to mind when thinking about BBQ food but is super yummy nonetheless. We guarantee that seafood lovers will reach for this dish first, as it's deliciously tender and full of flavour. Cooked simply on the BBQ, wrapped in foil and covered in a gooey honey glaze, it couldn't be easier to create but will impress even the fussiest of guests. Take a look at All Recipes for a delectable honey marinade to take your salmon fillets to the next level.
A close friend to the burger; this particular item is another one that most guests will expect to see at any respectable BBQ. Using regular sausages or American style hotdogs would both work with this idea and will provide a really fun food station for your guests to get involved in. Simply cook as many sausages as you can fit on the grill and have a hotdog bar ready and waiting for when they are done; complete with hotdog buns and a range of toppings. The toppings will allow you to get really creative and will let your guests make a meal completely to their unique tastes. You can go crazy with this one – get every kind of sauce you can think of, little hotdog baskets (why not?) and every kind of topping known to man! If you're in need of some amazing ideas, take a look at this guide to Hot dog toppings inspired by each American state – makes perfect sense to us!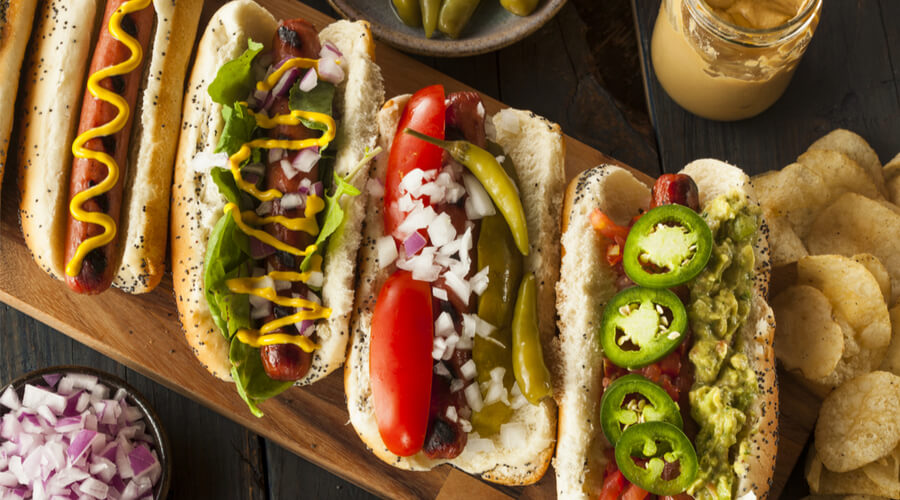 Not every BBQ dish needs to be cooked on a traditional BBQ grill. Why not think a little out of the box and provide your guests with something really unique and super tasty! Paella is commonly sold in street food markets as it can be cooked in huge batches and is perfect for larger groups, which is why this particular dish has made its way onto our list. You're probably wondering how you're going to cook up a paella fit for a large party, but it really isn't as tricky as you think. Take a look at these fab large paella pans from The Tapas Lunch Company – ranging in size, you'll be able to find one suitable for the number of visitors you're expecting. The Tapas Lunch Company also sell paella burners so you can get the pan outside and cook in the garden while you chat to your guests. Paella recipes are very versatile and can be filled with your favourite ingredients. Take a look at 21 delicious paella recipes from BBC Good Food to get some inspiration.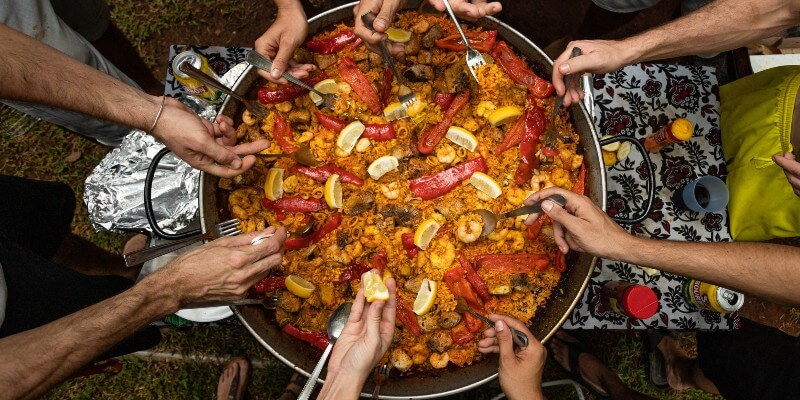 We had to finish on a stong point, and baby back pork ribs were the only possible contender to fill the spot. If you want to deliver a real show stopper, a rack of ribs for your guests to dig into will fit the bill perfectly. We recently provided some baby back pork ribs from our street food menu for a family in need of BBQ
catering in Berkhamsted. They decided to opt for outside caterers due to their large guest list and we're pleased to say, the ribs went down an absolute storm! If you're tempted to ask for our help, why not give us a call and see how we can help. We'll not only provide food that your diners will love, but we'll also take all of the stress and pressure to entertain off your shoulders so you're completely free to relax and mingle with your friends.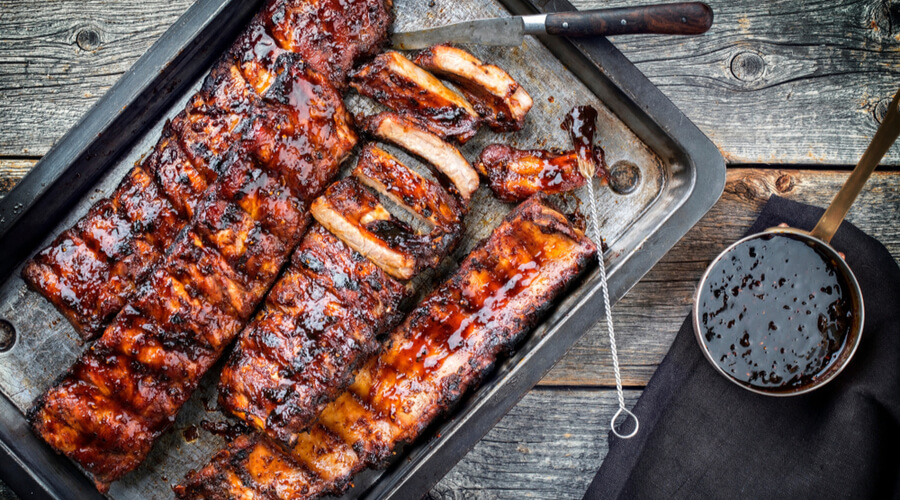 Time To Get Your Cook On!
If you've managed to get to the end of this article without running to the kitchen and eating everything in sight – congratulations, you are stronger than we are! With these ideas, your next BBQ bash is sure to be a complete success for parties of any size. Mix and match your favourite dishes to create a BBQ spread that will leave your neighbours green with envy – until then, happy cooking and enjoy the sunshine!