Here in the UK, we are rarely blessed with warm, sunny days, so when they do come around, we want to make the most of it. Hosting a BBQ is an excellent way to enjoy the weather with friends and family, but knowing what to serve can be difficult. To help you, we have made a list of some of the best summer BBQ drinks that your guests are guaranteed to love.
Your personal guide to the best summer BBQ drinks
Nothing beats drinking a cold and refreshing beverage on a warm day, so taking the time to plan what drinks are best served at your BBQ is crucial. You want to make sure there is something for everyone because there is nothing worse than feeling dehydrated on a very hot day. To ensure everyone is catered for, we suggest serving a variety of alcoholic and non-alcoholic drinks and even asking your guests beforehand what their preferences are.
We understand that BBQs require a lot of planning, and finding both food and drink that appeals to everyone can be quite a challenge. If you are struggling to meet the needs of everyone attending, then we are here to help. Our experience of catering in Buckingham and catering in Northampton has allowed us to devise menus which are affordable and adaptable to suit any event.
Piña Colada
Being the official beverage of Puerto Rico, piña coladas will definitely add an exotic element to your BBQ. If you are still undecided on what date to throw your BBQ, or are looking for a reason to have a celebration, then July 10th is perfect as it's national piña colada day!
The cocktail, which is a tropical blend of rich coconut cream, white rum and tangy pineapple, is a summertime favourite and super simple to make. To make one piña colada all you need to do is blend together 120ml pineapple juice, 60ml white rum, 60ml coconut cream and a handful of ice until the texture is smooth. If you really want to make a lasting impression on all of your BBQ goers, you could even serve it in a pineapple cup with a cocktail umbrella – transforming your garden BBQ into an island-themed getaway.
Mojito
The Mojito is one of Cuba's favourite cocktails, and it has a fascinating history. English sea captain, Sir Francis Drake, is famous across the country for helping defeat the Spanish Armada, which led to him being knighted by Queen Elizabeth I. However, in Spain, many people still consider him to be the ruthless pirate, known as El Draque. It is believed that a drink, very similar to the mojito we know today, was invented after Drake found himself near the city of Havana. Named El Draque, the cocktail had aguardiente (early rum), sugar, lime and mint. The drink's original purpose was to help treat scurvy and dysentery, but when the aguardiente was replaced with rum, the famous mojito was born.
All you need to make your own mojito is the juice of 1 lime, 1 tsp granulated sugar, a small handful of mint leaves, 60ml white rum and soda water to taste. Start by muddling the lime juice, sugar and mint leaves in a small jug, crushing the mint as you go. To crush the mint, you can use the end of a rolling pin. Then, pour the delicious mixture into a tall glass, add a handful of ice and pour over the rum. All that's left to do is to top up with soda water and garnish with mint to serve. The end result is mouthwatering, and everyone should taste the flavours this drink has to offer, so if any of your guests do not drink alcohol, you can easily make this a mocktail by following the exact same steps but removing the rum.
Pink Lemonade
Pink lemonade it sweet, colourful and synonymous with summertime, which makes it the ideal drink to serve at your BBQ. This rosy variety of the popular beverage is full of flavour and simple to make – all you need it 300g caster sugar, 1½ sliced lemons, 1 sliced orange, 3 x 170g/6oz punnets raspberries and ice and fresh mint to serve (optional).
Begin making your tasty pink lemonade by placing all ingredients into a large saucepan and pour over 350ml cold water. Bring the mixture to the boil, remembering to stir often and then leave to cool. Next, pour it through a sieve, using a spoon to press it down and extract all the juices. You should then store this in the fridge for up to one week. When serving, pour into a glass and top up with sparkling or still water, ice and mint. Or, you could even set up your own lemonade stand and fill up a couple of drink dispensers with the pink lemonade, leaving your guests to help themselves throughout the day.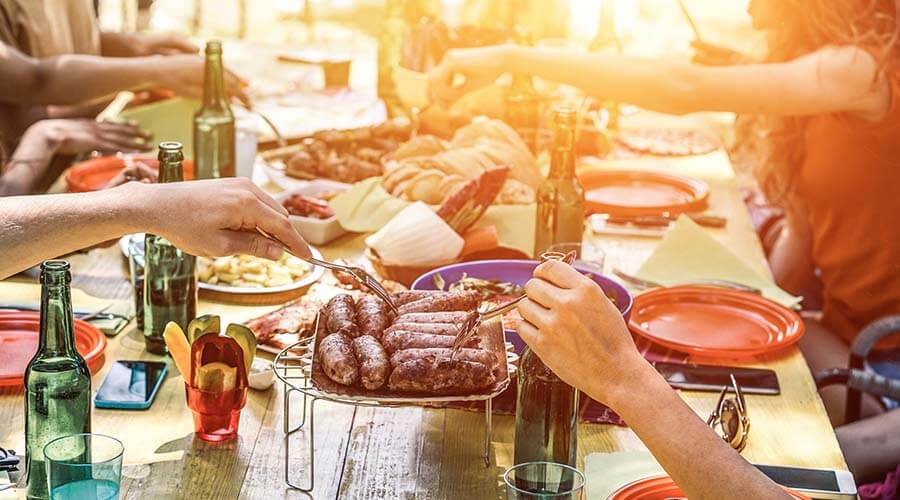 Pimm's
Named after its creator, James Pimm, this drink is a gin-based fruit cup with a subtle taste of spice and citrus. Here in England, Pimm's is our go-to summer drink, and its popularity has led to it becoming a staple drink enjoyed by spectators at the Wimbledon tennis tournament and Chelsea Flower Show. In fact, during the 2014 Wimbledon tournament, fans consumed an impressive 40,000 pints of Pimm's over two weeks!
The flavouring of Pimm's is complemented well by a number of mixers, so it is entirely up to you how you wish to serve this drink. For example, you can mix Pimm's with champagne or sparkling white wine to create what is known as a "Pimm's Royal Cup." Alternatively, ideal for the winter, you can mix it with warm apple juice to create a "Pimm's Winter Cup." However, the most common way to serve Pimm's is by mixing it with lemonade and adding various chopped garnishes such as apples, oranges, lemons and strawberries.
Citrus peach cooler
Perfect for a summer BBQ, this refreshing non-alcoholic drink is loved by both adults and children alike. To make it, you will need:
2 lemons, juice only
2 limes, juice only
1 lemon, thinly sliced
1 lime, thinly sliced
Peach nectar
Cloudy lemonade
Sliced strawberries (as many as you like)
Sparkling water
Mint sprigs
Start by putting the lemon and lime juice into a large jug and then add the sliced lemon, lime and a handfiul of ice cubes. Next, add peach nectar to fill about one thrid of the jug. You can then fill up the rest of the jug with lemonade and add the strawberries, sparkling water and mint sprigs to taste.
Ice cream floats
If you don't already know, an ice cream float is a chilled beverage that consists of ice cream in either a soft drink or in a mixture of flavoured syrup and carbonated water. This sweet treat dates back to the late 19th century where soda shop owner Robert Green used to make tasty drinks using carbonated water, syrup and cream. Apparently, he ran out of cream one day and decided to use ice cream as an alternative, which was a complete hit with his customers! After the success of his creation, Green celebrated and sold vanilla ice cream with soda water and a choice of 16 different flavoured syrups. The innovative treat soon became a sensation, and many other establishments added ice cream floats to their menu. Green was so proud of his invention that his will instructed that "Originator of the Ice Cream Soda" was to be engraved on his tombstone. Making a classic ice cream float is easy, and all you need is ice cream and a fizzy drink of your choice (cola is the most popular option). Firstly, fill 3/4 of a glass with your chosen fizzy drink. For best results, we recommend using a fizzy drink that is already cold and using a chilled glass – you can do this by leaving it in the freezer for around 10 minutes. Next, slowly add scoops of vanilla ice cream – the amount of ice cream you use is entirely dependent on your preference. All that's left to do is add a straw and serve to guests.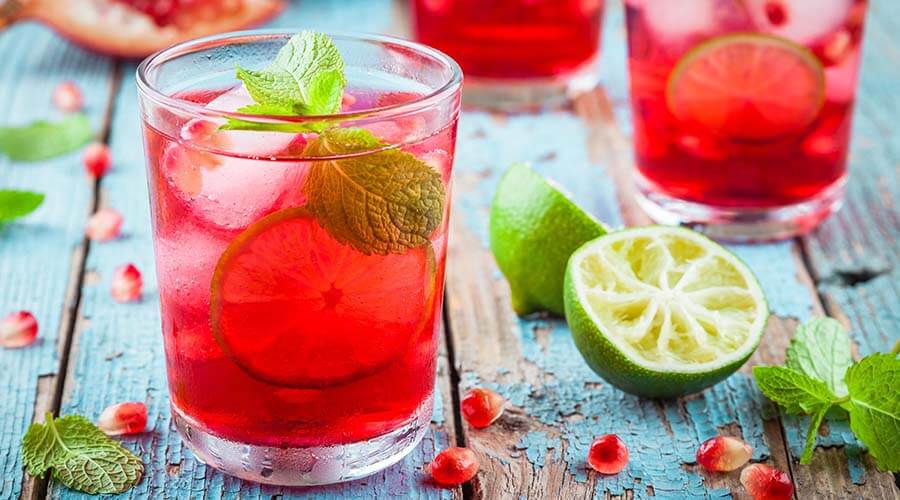 Bubbly champagne punch
Whether you are hosting a BBQ for a special birthday, anniversary or to simply make the most of the weather, no celebration is complete without champagne. This fun and fizzy beverage is light, easy to drink and super refreshing, making it the ultimate crowd pleaser. Here is what you will need:
Champagne
Grand Marnier – This delicious orange liquor adds subtle sweetness and a lovely citrus flavour
Vodka – Its neutral flavour makes the most of the other ingrediants
Pomegranate Juice
Ginger Ale
Citrus slices
Fresh raspberries
Once you have gathered all of these ingredients, start by stirring the vodka, Grand Marnier and pomegranate juice together and leave in the fridge for about an hour. This will ensure the punch is cool and refreshing but will also take the bite off the vodka, making it smoother and fruitier. Then, just before serving, add the champagne and ginger ale and garnish with the fresh fruit.
Refreshing and full of flavour
Having a selection of refreshing and tasty drinks at your BBQ will not only keep your guests hydrated during the warm weather, but you may also introduce them to new flavours and combinations they haven't tried before, making it a more memorable occasion. No matter what event you host, we are here to help every step of the way. Our services include special occasion catering in Towcester and catering in Berkhamsted, as well as many other areas. So, take a look at what we have to offer and get in contact with one of our team members who are always more than happy to assist you on your next catering endeavour.