As the most common type of poultry in the world, chicken is used in all kinds of cuisine, so it would be rude not to dedicate a whole month to celebrate its deliciousness. Having provided catering services in Buckingham and the surrounding areas for many years now, we are here to share our expertise with you and help you make the most of national chicken month. We have a number of recipes detailed for you below which are easy to follow and guarantee to produce undeniably mouthwatering meals, so keep on reading to find out what they are!
Celebrate national chicken month in style
As devoted food enthusiasts, a month dedicated to one of our favourite ingredients is a dream come true. Our experience of catering in Berkhamsted has proven that chicken always goes down a treat and is many people's favourite meat. With this in mind, we wanted to be your ultimate national chicken month companion and provide you with a few of our favourite chicken recipes that you can recreate at home.
Aside from being extremely delicious, chicken is also great for your health as it is:
High in protein
Rich in vitamins and minerals
Low in calories (great for weight loss!)
Able to control blood pressure and reduce cholesterol
If the taste and health benefits of chicken haven't convinced you to make the most of this special month, then you should know chicken's popularity is a direct result of its versatility as a cooking ingredient. Used in a variety of ethnic cuisines from across the globe, chicken can be served in a number of ways, such as in sandwiches, salads, as a main entree…the possibilities are endless!
So, if you do not tend to use chicken a lot when you are cooking, then there's no better time to start than now.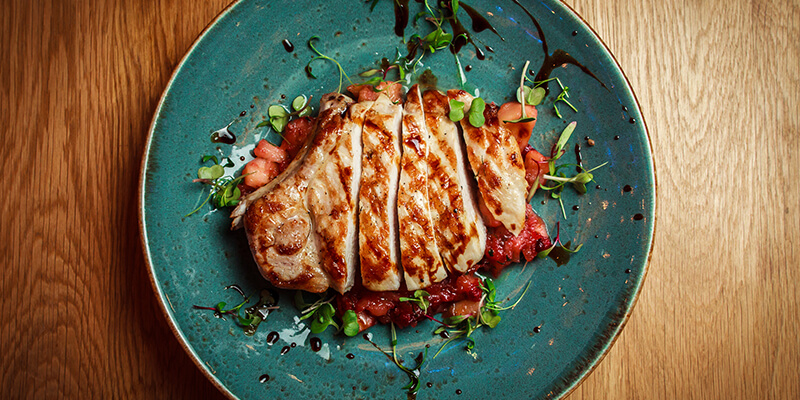 Chicken and chorizo jambalaya
If you are a chorizo lover like us, then you have to try this tasty concoction for national chicken month. When paired together, the flavours of both types of meat complement each other perfectly and effortlessly create a delectable meal. If you aren't familiar with what jambalaya is, then allow us to explain. The dish has three staple ingredients: rice, meat and vegetables. Many regions have adopted their own take on the dish which has led to many variations of jambalaya existing. Examples of some meats and seafood used for jambalaya include turkey, shrimp, alligator and duck; however, the most common meats used are chicken and smoked sausage. Although the exact origins of the dish are unknown, our favourite theory involves a traveller staying in an old guest house in Lousiana. During his stay, it is believed that one night he asked the cook (named Jean) to "sweep something together" in French. The resulting phrase – "Jean, balayez" soon became "jambalaya" which is what we use to refer to the dish today. Now, to make this tasty meal yourself, you will need the following:
1 tbsp olive oil
2 chicken breasts, chopped
1 diced onion
1 thinly sliced red pepper
2 crushed garlic gloves
75g sliced chorizo
1 tbsp cajun seasoning
250g long grain rice
400g canned plum tomatoes
350ml chicken stock
Jambalaya has been a much-loved favourite for generations as not only is it cheap, filling and full of flavour, but it is also one of the easiest dishes you can make. You can make this Cajun-inspired dish by following these four simple steps:
In a large frying pan, heat 1 tbsp olive oil and cook 2 chopped chicken breasts for around 5-8 minutes until golden
Remove the chicken from the pan and set it aside until needed later. Add in one diced onion and cook for 3-4 minutes until soft
Next, add 1 thinly sliced red pepper, 2 crushed garlic cloves, 35g sliced chorizo and 1 tbsp cajun sea singing. Once this is all in the frying pan, cook for another 5 minutes.
Now it is time to add the chicken back in, along with 250g long grain rice, 400g canned tomatoes and 350ml chicken stock. All that is left to do is cover and simmer for 20-25 minutes until the rice is tender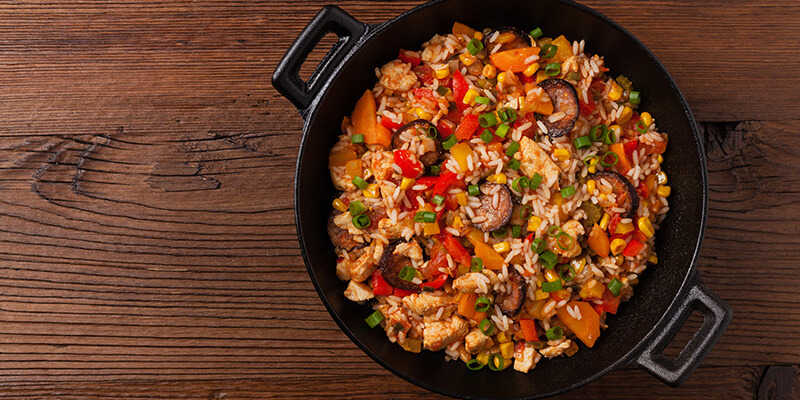 Traffic light chicken shish kebabs
If you are looking to try something that really tastes as good as it looks, then these traffic light chicken shish kebabs are just what you need! Full of flavour and colour, these kebabs are ideal if you are hosting a barbecue and want to cater for all ages. The recipe below includes the method to create a marinade which isn't full of spice, making it suitable for kids. However, if you or anyone else would like some added heat, be sure to serve with chilli sauce on the side. The ingredients you will need are:
6 chicken breasts, chopped into large chunks
Red, orange and green peppers (2 of each) deseeded and chopped into large chunks
Warmed flatbreads, chopped
Tomato and lemon wedges (to serve)
For the marinade and sauce:
2 finely grated cloves of garlic
300g natural or greek yogurt
1 tbsp paprika
3 tbsp ketchup
For the best results, we recommend making the marinade first as you will want to cover the chicken in it before barbecuing. Begin by mixing all of the marinade ingredients together in a large bowl. Once everything has been appropriately combined, spoon a third of the mixture into a smaller bowl, then cover and chill until needed. Next, stir the chicken into the marinade and leave it aside for around 20 minutes. If you are very organised and like to make preparations in advance, then this is ideal as, if covered, it can be chilled for up to two days.
If you are using wooden skewers to serve, soak them in water for an hour before use in order to help minimise any fire risks. Alternatively, you can opt to use metal skewers as they do not pose a fire threat and are very durable. Once the skewers are ready, thread the peppers and chicken onto them until you have 6-8 kebabs. This can also be done in advance if you prefer, but remember to keep the kebabs chilled until needed.
When cooking your kebabs, heat the barbecue to medium, or until a thin layer of coals turn grey. For around 10 minutes, cook the kebabs on the barbecue while turning occasionally. Once the chicken is charred and cooked all the way through, serve the kebabs with yoghurt sauce, warmed flatbreads, chopped tomatoes and wedges of lemon on the side.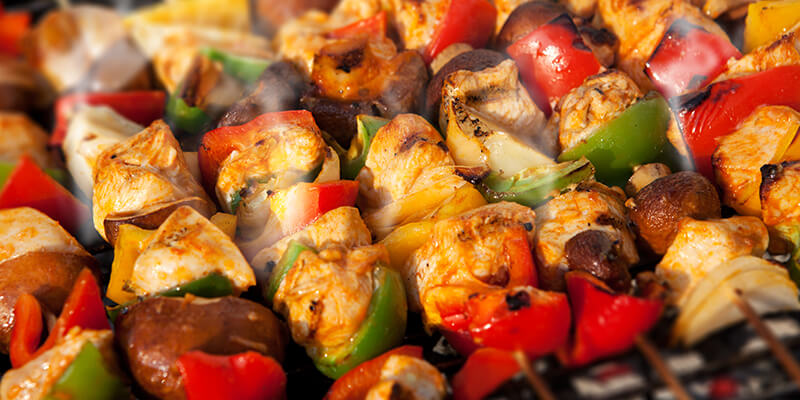 Chicken burrito bowl
One of the most popular dishes in Mexican and Tex-Mex cuisine is the burrito. Like most foods, there are several variations of burritos, but the old-time favourite of a traditional Mexican burrito is hard to compete with. This type of burrito typically consists of a flour tortilla, meat (normally beef) and refried beans. Most modern recipes of this burrito also include rice, cheese and salad ingredients. Thought to have originated from the Chihuahua region of Mexico between 1900 and 1910, the traditional Mexican burrito has since made its way into many households in the UK and across the world. As it is national chicken month, we thought it would be fitting to reinvent this traditional meal and create a delicious chicken burrito bowl. To get started, you will need:
1 small sweet potato which is cut into wedges
2 tbsp oil
1 chopped garlic clove
1 finely chopped red onion
1 skinless chicken breast, sliced into strips
1 tbsp cider vinegar
1 tbsp honey
400g canned black beans, drained and rinsed
250g rice (any rice is suitable so pick your favourite!)
1 medium sized chopped tomato
1 lime, zested and juiced
A handful of chopped coriander leaves
1 stoned and sliced avocado
1 small tortilla, sliced into strips and grilled until crips
Optional: hot sauce and lime wedges to serve
Begin your burrito masterpiece by heating your oven to 200C/180 fan/gas mark 6. Then, cover the sweet potato wedges with 1 tbsp oil, season and then bake for around 20 minutes. After covering the chicken to keep it warm, you should then heat the remaining oil in a frying pan and briefly fry the garlic and most of the onion.
Now, it is time to add the chicken which you will fry for another 7-10 minutes (or until it is cooked through completely). Next, add in the vinegar, honey and black beans and stir until it has all combined. Proceed to cook for roughly 2 minutes.
Then, add your favourite rice and warm everything through for 5 minutes. Once you have done this, you will then need to divide the rice mixture between two bowls. The next step is to combine the tomato, remaining onion, the lime juice and zest and the coriander.
As you want your burrito bowl to look as appetising as possible, we recommend arranging half of the avocado over each bowl, along with half of the sweet potato wedges. For added flavour, spoon on some salsa and top the dish off with some tortilla strips. If you like, you can then serve with hot sauce and lime wedges.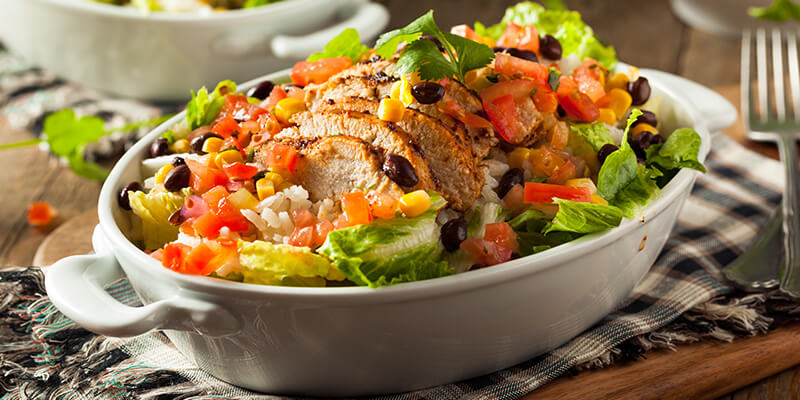 Bon Appétit!
We hope our recipes have inspired you to head to the kitchen and make the most of national chicken month. If you like the sound of these recipes, then you will love the food we serve as part of our catering service. Check out our special occasions catering in Aylesbury to get a taste of what we have to offer, we promise you won't be left disappointed…or hungry!