According to Taste Inc, we Brits are within the top five countries across the globe that consume the most chicken. It is thought that a vast 2.2 million chickens are eaten every single year – crazy statistics, right? Well, with hundreds of different delicious chicken recipes, it's no surprise that our mouths are watering at the thought of delving into a tasty dish. With this in mind, as lovers of street food-inspired creations, we have devised a guide on how to rustle up the perfect BBQ chicken wings, along with handy top tips.
Top Tips For Cooking The Perfect BBQ Chicken Wings!
There is nothing tastier than tucking into delicious chicken wings coated in your favourite sticky sauce. While it'll be tricky to beat the likes of Wingstop and KFC, there are a host of super easy top tips to nail knocking up your own chicken wings; all from the comfort of your home. Having provided catering in Bedford and surrounding areas for a fair few years, we've become experts in all-things BBQ'ed meat, so we thought we'd run through some of our top-secret tips!
Buy Whole Wings
First things first, don't worry about trying to track down wings that have already been broken down, it's so much cheaper just to buy your meat whole, then separate them yourself. While it may seem like an extra task to add to your to-do list, breaking down wings take a matter of minutes. It also means that you can cut them into the perfect bite-sized pieces for you and your guests!
To break down your wings, simple lay each piece of meat flat on a chopping board and slice through the two joints. It's likely that you're going to need a chef's knife or cleaver to do this, a small knife won't be sharp enough, so be extra careful of those fingers! It's then up to you whether you opt for using both the drumette and flat or freeze one to use on a later date.
Avoid Charring & Flare-Ups
Nothing is more annoying than turning your head away from the grill for a matter of seconds, and all of a sudden, your wings are burnt to a crisp. To avoid charring (burning the surface of the meat) and flare-ups (when the charcoal catches on fire), set up your grill for indirect grilling. Don't forget to brush and oil the grill grate before beginning to cook as this will prevent the wings from sticking. The wings will take around 40 minutes to cook – make sure that you turn them a few times in the meantime.
If you want your wings to have an extra smoky flavour when you take them off the BBQ, add a layer of soaked and drained wood chips on top of the coal – another handy top tip, just for you!
Use The Right Oils
If you love nothing more than the traditional fried chicken wing, then you're going to want to use the right oils. Forget super fancy, expensive oils and stick to simple alternatives such as vegetable or peanut oil. Both of these have a high smoke point which means that you can guarantee a tasty, crispy skin. It also means that, as both have little flavour, you will not have a horrible oily tasty and instead, can enjoy your delicious seasoning!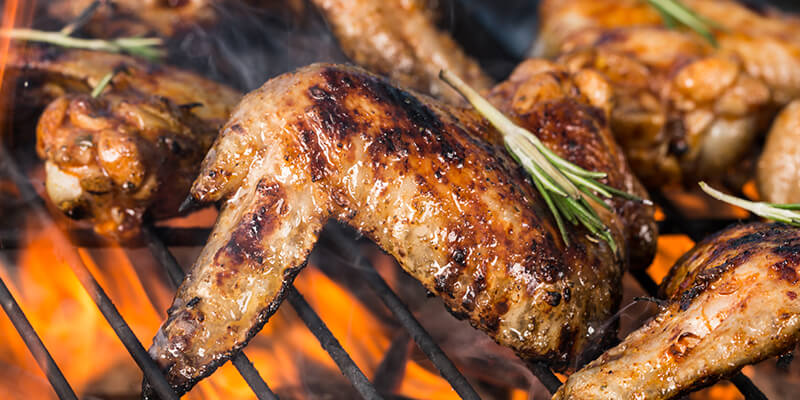 Experiment With Frying Alternatives
For those who are looking for slightly healthier options, don't worry, we haven't forgotten about you! You can still tuck into wings with the perfect crisp without using any oil. Instead, as strange as it may sound, coat your wings with a little baking soda before cooking. This will alter the pH of the skin, which means that they will go super crispy. You can find an easy-to-follow recipe on how to do this on The Cookful.
Apply Sauce At The End
We all dream of the perfect balance between crispy wings, but with a generous coating of tasty, sticky sauce – what's the secret? Well, it's actually easier than you would expect! Instead of cooking your wings in the sauce, apply it just before you have finished cooking. Attempting to grill wings covered in sauce from the beginning will do nothing but make the meat soggy. Not only will sauce make wings soggy, but if it includes a large amount of sugar (which BBQ sauce always does), it'll cause the chicken to burn. To solve both issues, grill your wings until they are crispy then drown them in your sauce just before serving!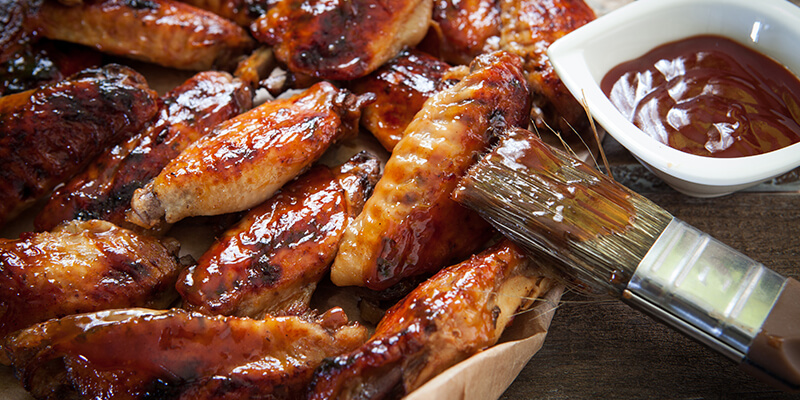 Check For "Doneness"
There are no real technical terms, so we're going to call it checking for "doneness". When you think your wings are nearly done but want to double-check how much longer they'll need to cook, simply make a small slit in the skin using a sharp knife. Try to check on the thickest part of the wing as this will take the longest to cook. If there are any hints of pinkness on the meat, then they're going to need a little longer! Keep cooking until all of the meat is white with no traces of pink.
Complement With A Creamy Dip
We're going to be honest; this is probably our favourite part of making and tucking into any chicken wings – the creamy dip accompaniment. If you've ever been to an American-style diner for buffalo chicken wings, then you'll know that there is nothing better than dipping your wings in a tasty side dip. And even better, they couldn't be easier to make!
Our favourite creamy dips have got to be homemade ranch dressing and blue cheese dip, so we're going to tell you super quick ways to make both. To make your very own homemade ranch dressing, all you'll need to do is whisk the following ingredients in a bowl and pop in the fridge covered to cool for around two hours:
1 cup mayonnaise
3/4 cup buttermilk
1/4 cup​ sour cream
1/2 teaspoon salt
1/2 teaspoon​ black pepper
1/4 teaspoon onion powder
1/4 teaspoon garlic powder
1/8 teaspoon dried thyme
1 tablespoon finely chopped parsley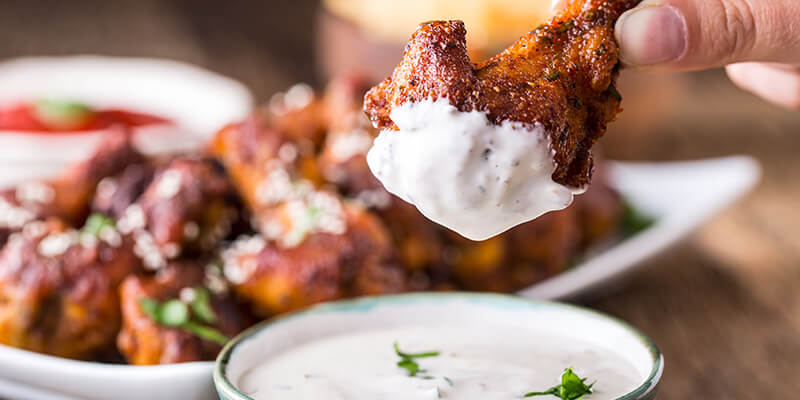 Just like the ranch dressing, our blue cheese dip takes minutes to prepare. Again, mix all of your ingredients together in a bowl, be sure to stir carefully to avoid breaking up the cheese too much. The dip can be used straight away, but if you want a stronger flavour of cheese, chill in the fridge for around an hour before tucking in. All you'll need is:
1 cup mayonnaise
1/2 cup Greek yoghurt
3.5 oz blue cheese in large crumbles
2 teaspoons lemon juice
1 teaspoon hot sauce
1 teaspoon Worcestershire sauce
1/2 teaspoon garlic powder
1/2 teaspoon onion powder
1/4 teaspoon pepper
1/4 teaspoon salt
For more inspiration on sauces to trial when you're next delving into a plate of chicken wings, take a look at Food and Wine!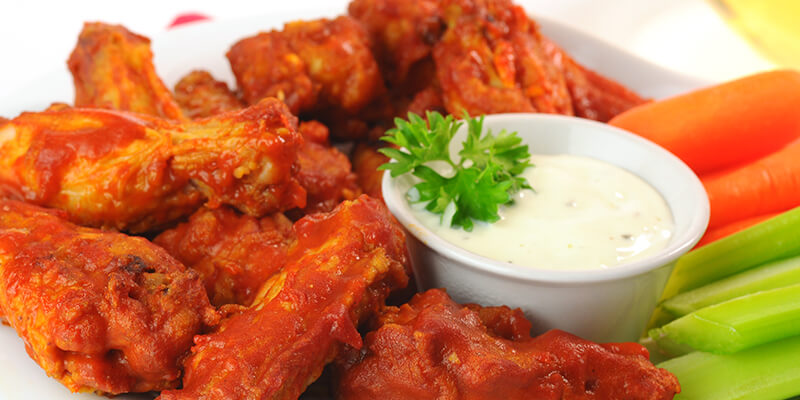 Tasty Chicken Wing Recipes Ideas
Now that you're an expert on how to cook the perfect chicken wings, it's time to put your new-found knowledge to the test. Below we have devised some of the most delicious BBQ chicken wing recipes, many with a unique twist, so you can begin experimenting at home!
Teriyaki BBQ Wings
If you enjoy the rich flavours of Japanese cuisine, then you will adore these teriyaki-inspired BBQ chicken wings. With the perfect balance of sweet and savoury, this recipe is guaranteed to go down a storm.
To make your own teriyaki sauce, all you'll need to do is whisk together the following ingredients until the sugar has dissolved:
1 cup of water
1 cup of soy sauce
1 cup of white sugar
1/4 cup of pineapple juice
1/4 cup of vegetable oil
1 tablespoon of minced fresh garlic
1 tablespoon of minced fresh ginger
1 tablespoon toasted sesame seeds
Next, pour the sauce over three pounds of chicken wings and leave to marinate in a covered bowl for at least one hour. If you love to have extra sauce to dip, then separate some of your teriyaki marinade before adding the chicken and leave to one side.
Preheat your oven to 350 degrees and grease a baking tray. Once marinaded, remove the chicken and place the meat onto the baking tray. Cook for one hour until the teriyaki glaze has evenly browned, remove from the oven, sprinkle over your toasted sesame seeds and enjoy!
For more mouth-watering teriyaki recipes, take a look at Just Once Cookbook.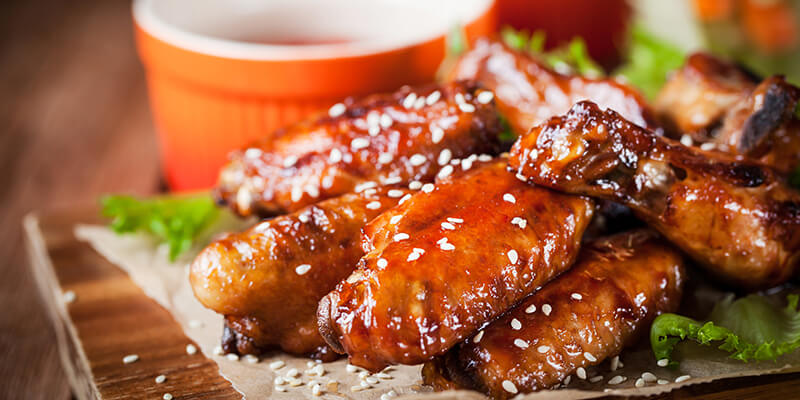 Honey BBQ Wings
Sometimes there is nothing better than a little sweetness to complement your favourite dish. So, why not add a touch of honey to your traditional BBQ chicken wings? This recipe has slightly more steps than the teriyaki wings, but we promise it'll be worth it!
The first step is creating the seasoning for your chicken wings. Preheat your oven to 220°C then combine the following ingredients in a bowl:
1 cup of flour
1 teaspoon chilli powder
1 teaspoon salt
1 teaspoon freshly ground black pepper
1 teaspoon paprika
1 teaspoon garlic powder
Next, coat 20 chicken wings in the mixture and shake off any excess flour. Pop the seasoned wings onto a baking tray lined with parchment paper and bake for 45 minutes. While you're waiting for your wings to cook, combine 1 cup of BBQ sauce with half a cup of honey. Once your wings have cooked, coat them evenly in the sauce and put back in the oven for another 10 minutes. Once the sauce starts to caramelise, remove from the oven and enjoy!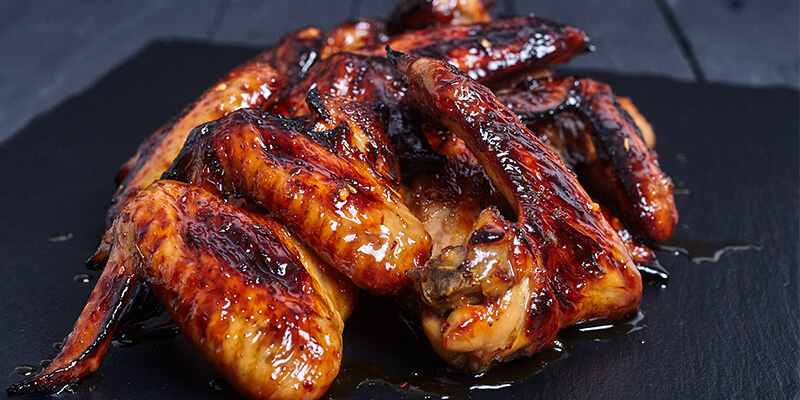 Buffalo Wings
Calling lovers of all things hot and spicy, this one is for you! We simply couldn't finish our guide to tasty chicken wings without incorporating a super easy buffalo wing recipe.
To begin preparing your buffalo wings, line a baking tray with aluminium foil and add a light layer of cooking spray. Next, put the following ingredients in a resealable plastic bag and shake well until combined:
3/4 cup all-purpose flour
1/2 teaspoon cayenne pepper
1/2 teaspoon garlic powder
1/2 teaspoon salt
Put 20 chicken wings into the plastic bag, seal and shake until all meat is thoroughly coated. Take the wings out of the bag, pop them into your pre-prepared tray and leave to chill in the fridge for one hour. In the meantime, preheat your oven to 200°C and begin making your sauce. All you'll need to do is whisk together 1/2 cup of melted butter and 1/2 cup of hot pepper sauce. You can use any hot pepper sauce, but for an authentic taste, we suggest using Frank's RedHot sauce.
Once your chicken has chilled for one hour, remove the tray from the fridge and coat the wings in a layer of the butter and hot sauce mixture. Put the wings back on the baking tray and cook for around 45 minutes until they are crispy on the outside.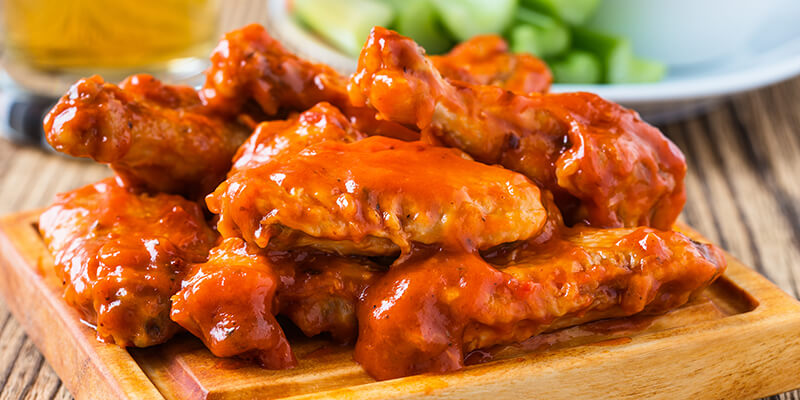 Delve Into Delicious Wings!
We hope that we inspired you to get into the kitchen and rustle up your own delicious chicken wings. All of the mouthwatering recipes are super easy to recreate from the comfort of your home, and when paired with a tasty side dip, the combination is guaranteed to go down a storm!
If you have an upcoming event and would love to serve up some of the recipes mentioned above, why not enlist our catering services in Buckingham and surrounding areas?