No one can quite make a Christmas dinner like the Brits can! Centuries of cooking the world-famous Christmas dinner has been passed down from our ancestors and developed into a plate of perfection. From hours of cooking the meat to the little touches of cranberry sauce, every element of the Christmas dinner is what makes the day so special. So, to make sure that you cook the perfect meal for the family this Christmas, here is the perfect traditional British Christmas dinner.
The Rub's Traditional British Christmas Dinner
Although us Brits have timed every dish down to the second and have practised the famous traditional supper, you may be surprised to find out that a lot of our delicious delicacies are inspired by other countries. When it comes to culture, Britain is packed full of inspiration from countries around the world, importing a new and improved culture thanks to the many unique individuals that have brought their delicious creations to the UK.
From Brussels to Asia, our Christmas plate is full of world culture for a shared celebration of the festive holidays. To help you form the perfect Christmas meal this holiday, here are the best Christmas foods to enjoy with the family and their historical background.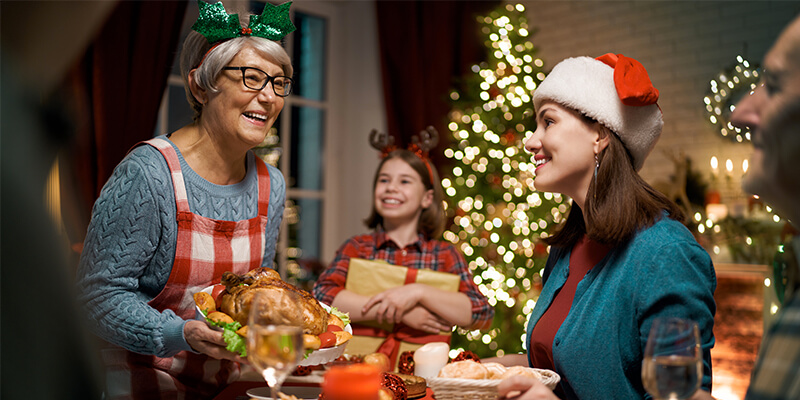 1. The Meat
Back in the day, meat was something mainly enjoyed by the wealthy individuals that could afford luxury goods. However, as times have changed and influences have crossed the borders, the types of meats that are enjoyed by Britain have changed. Here are some of Britain's favourite Traditional Christmas meats.
Goose Or Turkey?
Believe it or not, a traditional Christmas dinner has goose as the meat served with your veg and roasted potatoes. However, goose is not widely eaten in the UK as it is an expensive tradition to keep up with, so in the nineteenth century, the American tradition of having turkey replaced the goose.
Although it is not widely eaten today, you can still enjoy the flavours of goose for Christmas. To know more about how to cook goose and why it is a good alternative for your Christmas lunch, take a look at Country Lifes article.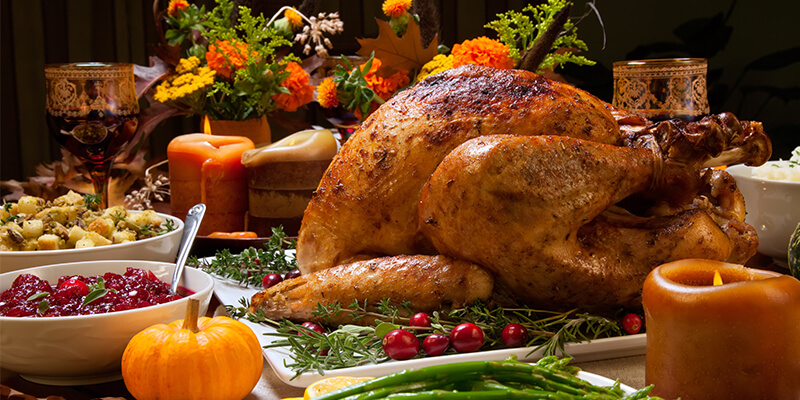 Chicken
Over the years, we have provided catering in Milton Keynes and the surrounding areas to various different clients for various different occasions. After catering for a wide range of clients, we know that chicken is a much loved and enjoyed food and can be served in a variety of different ways depending on the styles that you enjoy the most. For example, you could give your chicken a simple sprinkling of salt and pepper or spice things up with Delia's turmeric-infused chicken.
Seeing as everything on the Christmas menu has been influenced by other cultures, why not give a different chicken recipe a go? There are so many different combinations that you can try to find your perfect burst of flavours. All you need to do is make sure that whatever spices you use, you can pair it with gravy!
Pigs In Blankets
Other meats that are usually enjoyed alongside a British Christmas dinner is chicken, beef, lamb and the beloved pigs in blankets! Much like turkey, pigs in blankets are actually an American tradition, and was formed from the well known 'wiener dog'. Bacon is also a delicacy brought over to the UK by the Americans – who wrap pretty much everything in bacon. However, what may come as a surprise, is the fact that traditional pigs in blankets are wrapped in batter and not bacon, so in our opinion, it has a hint of British initiative as well as cultural influences.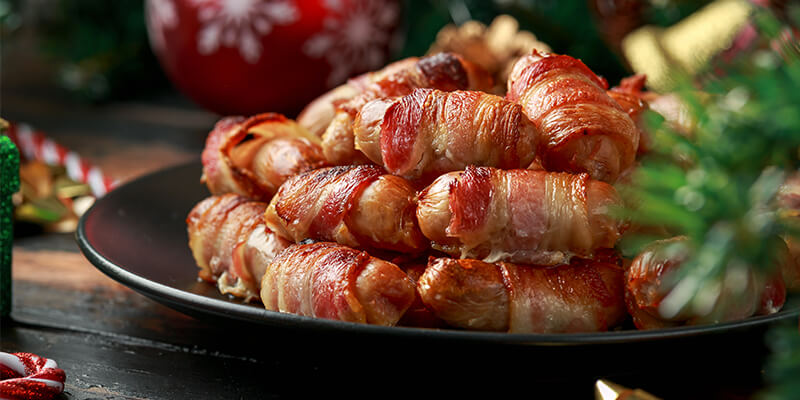 2. The Veg
Vegetables, while they may not be everyone's favourite part, make a significant amount of your Christmas plate. There are a number of vegetables that people have over the Christmas period that they probably wouldn't choose to have all year round. For example, the dreaded Brussel sprouts come out, and parsnips and carrots are glazed and roasted. Here are just a few of the delicious Christmas vegetables and their story.
Brussel Sprouts
As you can probably guess from the name, Brussel sprouts come from the wonderful land of Brussels. Brussel sprouts are much like marmite; you either love them or hate them. However, what most people don't realise is that Brussel sprouts can be enjoyed on boxing day as bubble and squeak. For those that have never heard of bubble and squeak, you have been missing out! It's where you put all of those leftover potatoes, onions, Brussel sprouts and peas into a frying pan and make this delicious combination of festive food and a hearty meal.
Although Brussel sprouts originally came from Brussels, today, they most likely come from somewhere within the Mediterranean, where they are mass-produced. You may be thinking, 'who on earth could like this small green miniature cabbage?', but they are actually really high in nutrients and antioxidants. You can find out more about the health benefits of this tiny veg by taking a look at Healthline's article.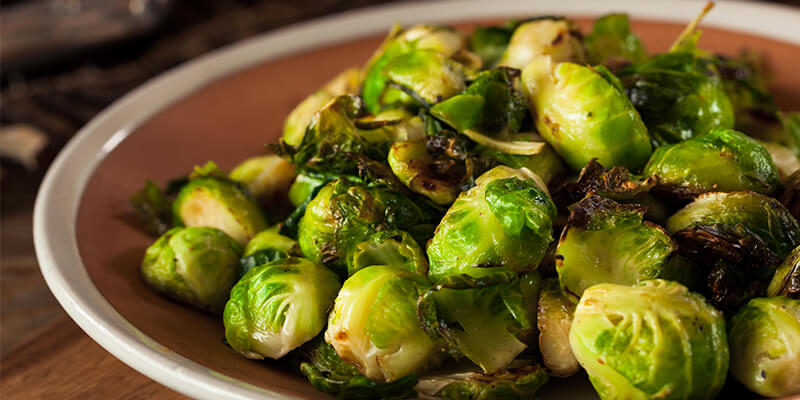 Parsnips
For some reason, parsnips seem to only appear in the supermarkets around Christmas time, which is a good indication that it's something enjoyed with a traditional Christmas dinner. This vegetable with an unusual texture was first eaten by the Roman Emperor Tiberius, in Germany, 2,000 years ago. Today, Parsnips are still mass-produced from Germany and transported overseas for us to complete our traditional British dinner.
Roasted Carrots
Roasted carrots are a relatively new thing that we Brits are enjoying with our Christmas dinner, as traditionally, carrots are boiled. However, when you roast your carrots, they release a mixture of sweet flavours and give a lovely crispy edge. You can coat your carrots with honey, garlic or even cumin and turmeric; it completely depends on what your taste buds like.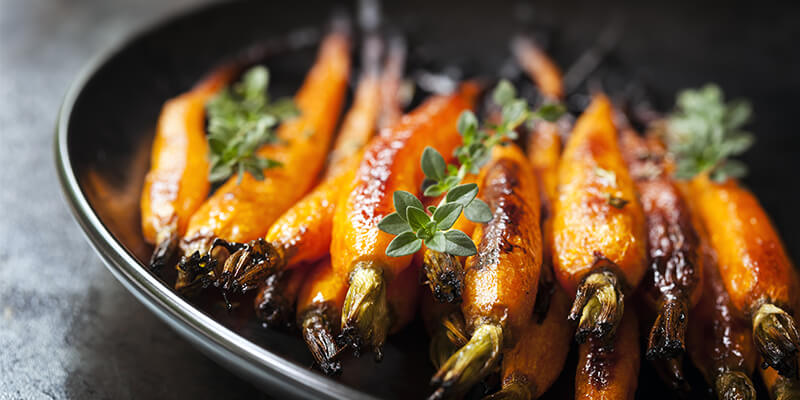 3. Roast Poatatoes
Potatoes are something that has been enjoyed by Tudors, Edwardians, Georgians and Victorians, from rich to poor families. It is hard to distinguish where exactly they have come from, as many countries produce their own form of potatoes, from new potatoes to baking potatoes. However, it is believed that the potato originates from Peru, where it was then distributed and grown within Europe. Although the potato itself may not be a British discovery, roasting the potatoes does in fact originate from England. Finally, something that is truly British, the perfectly roasted potato!
You can be sure that your dining experience with the Rub this Christmas will have potatoes roasted to perfection, with a crispy exterior and fluffy interior. Book in your Christmas party catering in Milton Keynes and the surrounding areas today, so you can get a real taste of Traditional British Christmas food.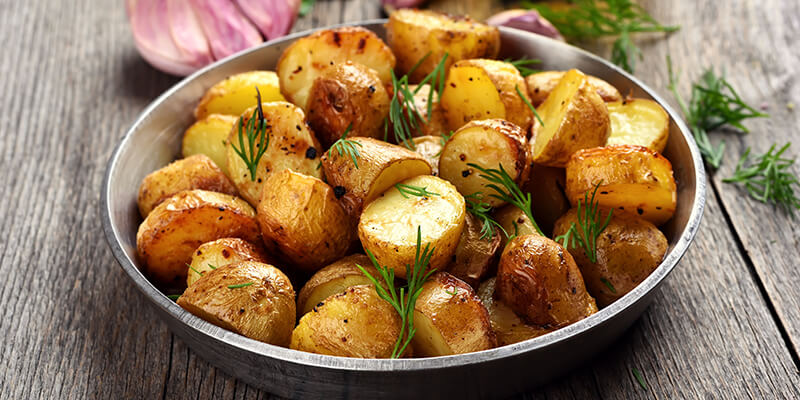 4. Yorkshire Pudding
When you ask people what's their favourite part about their Christmas dinner, you will without a doubt get the majority of people, if not all of them, saying that Yorkshire puddings are the be all or end all of the Christmas meal. The light and crispy texture of the Yorkshire pudding covered in gravy has everyone fighting for the last one. You can make them small or into massive bowls and fill them with all of your dinner!
As you can imagine, the Yorkshire pudding comes from Yorkshire, and was first mentioned in a cooking book by Hannah Glasse in 1747 named 'The Art of Cookery Made Plain and Easy'. Yorkshire puddings are a beloved Christmas addition that can be brought in the supermarket or homemade. In our opinion, homemade Yorkshire puddings make for the best Christmas meal addition, and you can make your very own crispy Yorkshires by following Good House Keeping's recipe.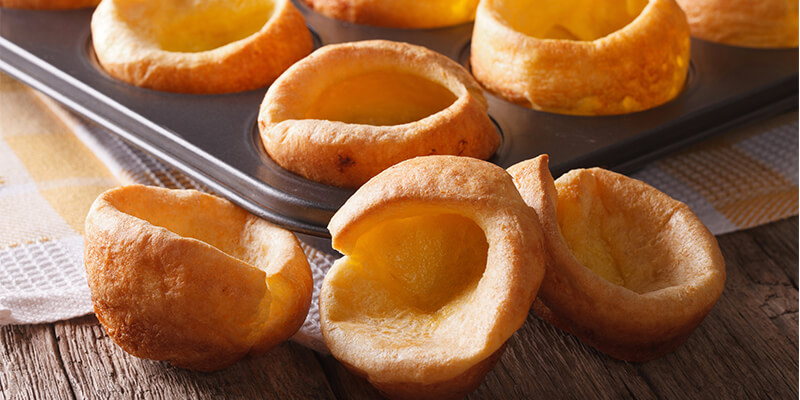 5. Desserts
Once you have filled your belly to the brim with Christmas dinner, you somehow always find room for pudding. Although today a lot of families enjoy a variety of Christmas desserts, such as a chocolate log, cheesecake or any of those found on our delicious British desserts article, the Christmas pudding is the true traditional British Christmas dessert.
When you think of Christmas pudding, you often think of a dense cake filled with lots of flavoursome cherries and berries, warmed up and served with a dash of cream or custard. However, the pudding originated from the fourteenth-century and was traditionally made as a porridge called 'frumenty', which isn't the most appealing name for a dessert. To make things even worse, frumenty was made from beef and mutton with raisin, currants, prunes, wine and spices. It wasn't until 1595 that the pudding changed into more of a plum pudding, thickened with eggs, breadcrumbs and dried fruit. We're not sure who changed the recipe for the Christmas pudding, but it's fair to say that we're very pleased that they did.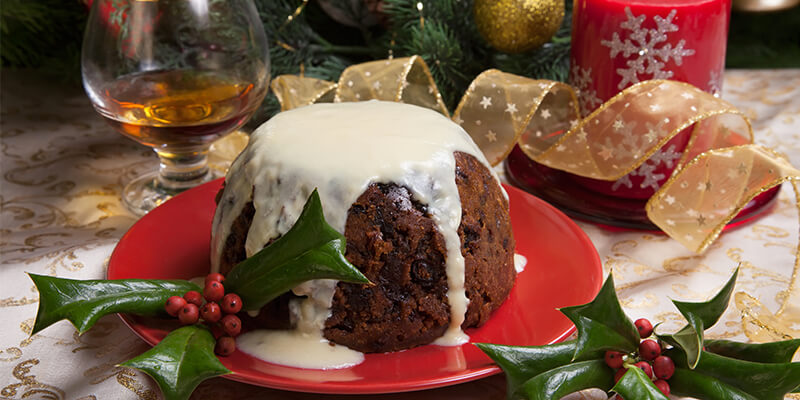 6. Condiments
Your Christmas dinner wouldn't be complete without the addition of a variety of different condiments. Every year during the Christmas meal, mint sauce, a burst of cranberry and bread sauce, are all tried and either loved or hated. Bread sauce is often a subject for conversation over the dinner table, as no one quite knows what it is and where it comes from. Bread sauce is served warm or cold and consists of milk and bread crumbs for thickening. It is typically eaten with roast chicken or turkey and can be brought in a jar or made at home.
A traditional Christmas dinner consists of bread sauce and is connected to the medieval dish served on Christmas day. It has an unusual flavour and for some reason goes extremely well with Christmas dinner, especially mixing it with your vegetables and gravy. Cranberry sauce, on the other hand, is loved with Christmas dinner as well as a turkey sandwich. When it was first introduced to the dinner table for Christmas, it was only the very wealthy that got the pleasure of tasting this fruity condiment.
If you are looking for Christmas party catering in Buckingham of the surrounding area, speak to our team today about the range of dishes and condiments included. Our team have paired the perfect food with the perfect condiments to ensure that you get the full Rub experience.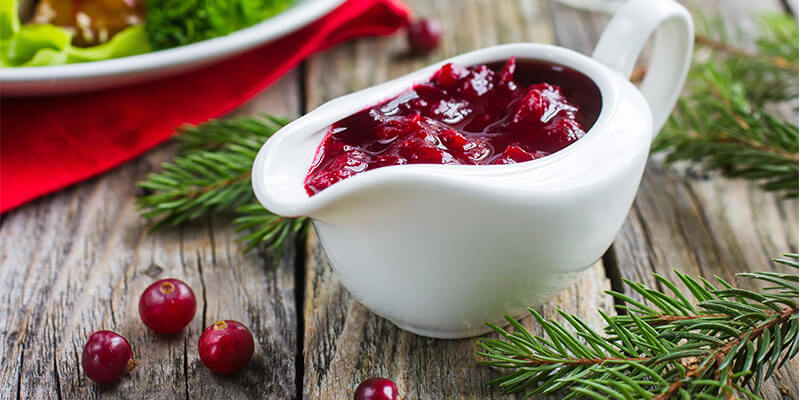 Make Your Christmas Special
Christmas tends to centre around the variety of different unique and delicious foods and treats that have been perfected and loved throughout history. Although Christmas dinner is an important part of the festive season, food, in general, brings everyone together to enjoy each others company through the shared experience of hearty food. If you have a work meal or a special occasion to plan for and would like some festive treats to accompany your event, feel free to contact our team about special occasion catering in Bedford and the surrounding areas.