There are hundreds of large-scale and small-scale food markets around the world that boast a delicious range of cuisines.
Why Visit Food Markets Around The World?
Food markets can be the perfect family activity when on holiday, or can add to your travelling experience. You should widen your taste pallet by exposing yourself to as many different cuisines as you can. Thai, authentic Chinese and Indian all have a very different preparation course as well as ingredients than what we use back home.
Food markets give you an insight to what the locals eat and how they prepare their meals, you have the opportunity to try authentic hand-prepared dishes from professionals that have cooked using this recipe for hundreds of years. So if you want to explore and widen your taste pallet, then look no further! We can take your taste buds on a trip with our private event catering Aylesbury in which we can provide you with a variety of authentic dishes to try for you and your guests. As well as this, we've devised a list of the planets best and biggest food markets that can allow you to try delicious cuisines from around the world for an affordable price. So keep reading!
Chinatown Complex Food Centre Kreta Ayer Wet Market – Singapore
If you love Chinese takeout, then you will fall in love with this fantastic food market and food hall located in Singapore. Although Chinese takeaway is still absolutely delicious, nothing beats authentic Chinese dishes with all of the proper ingredients as well as dishes that are only available here.
Take a trip down to the food court where the professional chef's prepare some of their most delicious delicacies right before your eyes, meaning you can see how fresh the food actually is. Enjoy some of their most famous dishes like fishhead soup and clay pot rice; it tastes better than it sounds! The head on down to their market where the locals regularly carry out their day to day shopping ritual, buying things like live frogs, turtles and even eels. So this market is not one for the faint-hearted!
Pike Place Market – Seattle
Pike Place Market has been an open-air market for 110 years now, it's one of the main components of Seattle and is deeply invested in by the locals and Seattle community. There are stringent guidelines of what can be sold at this fantastic marketplace, meaning that all of the individuals that trade here are local farmers that provide fresh and delicious food produce of all kinds.
One of the best qualities about this market is not only the food, but how tight-knit the community is. For all of the suppliers and families that sell at Pike Place Market they are provided with affordable housing if they're on a low income, so Pike Place Market repay their vendors from the community! Here you can enjoy some of the best-smoked seafood you will ever taste, along with crab, oysters and salmon fillets.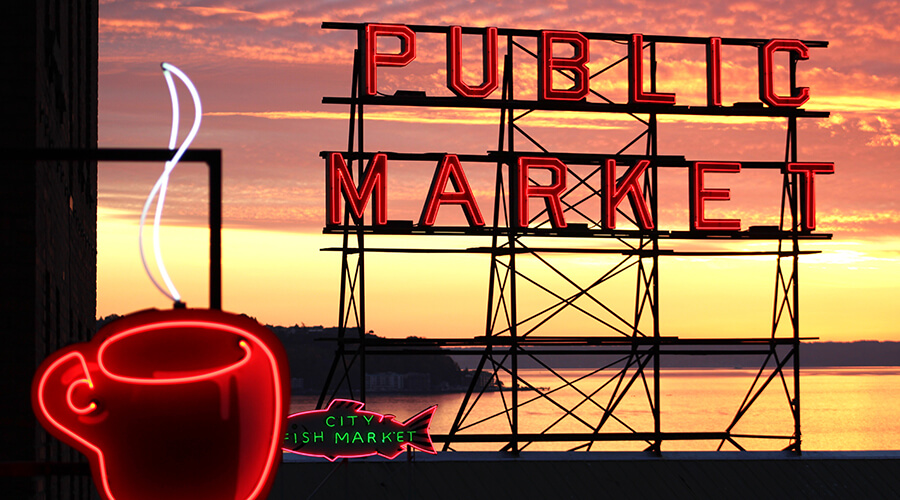 Or Tor Kor Market – Bangkok
Or Tor Kor Market is famous for some of their niche dishes, featuring live animals and bugs in a few of them; if you have a very selective pallet, then this might not be the market for you. But if you are open to trying new tastes and dishes, then this could be the perfect market for you. With fresh meat produce hanging up and copious amounts of seafood and other fresh produce, you can choose delicious foods to take home with you for an extremely affordable price.
Thailand is known for its low prices, which is what makes it such a favourite tourist travelling hotspot, so make the most of their markets as you can get bargain buys while enjoying the flavours that Bangkok has to offer. As well as this they offer a cooked food section where you can taste the most popular dishes in Bangkok without cooking them yourself, offering packs of giant cooked shrimp in packs of 10. Head down to the food court and end your day with a traditional Bangkok curry or fruity salads.
La Merced – Mexico
As one of the oldest food markets in the world, La Merced has been around for 150 years in Mexico. Looking around you will see cauldrons upon cauldrons full of Pancita, which is a Spanish dish that's made up of the stomach of a cow – also known as tripe, mixed with a chilli pepper-based broth. As well as this, Spain and Mexico are known for their delicious meats such as chorizo and Jamon, find all of these delicious smoked meats hanging up and being calved in front of the buyer's eyes to add to the freshness factor.
Venture deeper into this authentic food market and find fresh vegetables, the broadest chilli market you've ever seen and even candied fruits, making it one of the best food markets in the entire world.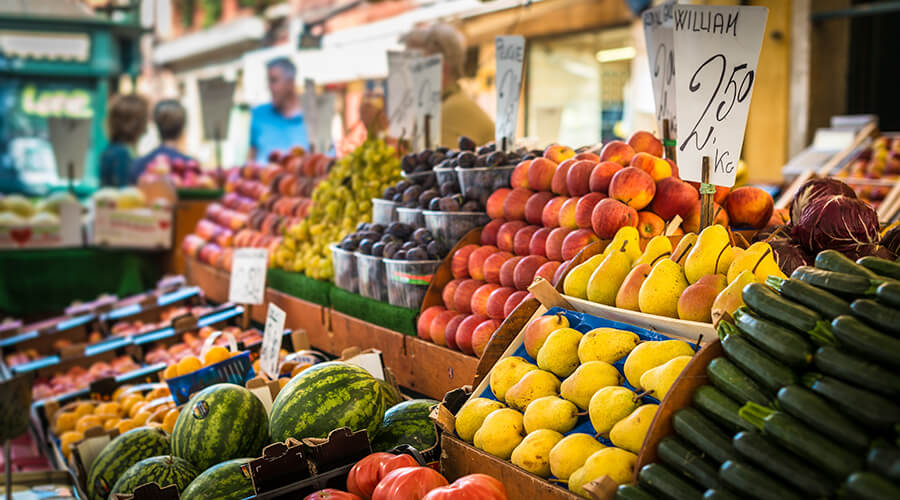 Borough Market – London
And we can't forget to include our own; Borough Market has been a buzzing tourist attraction with tourists coming from near and far to see what it has to offer. Tracing back to an incredible 1000 years ago, Borough Market is one of the oldest food markets in the whole world. Supplying visitors with freshly grown fruit and veg, and other locally grown produce, as well as traditional English produce like wild game, British cheeses and traditional street foods and of course the UK's most renown dish, fish and chips.
Some of the sellers at Borough Market have had their stalls and recipes passed down for generations by previous family members that once had a stall there. So if it's traditional food with lots of time and care put into it, then you'll find it at Borough Market.
Start Food Market Exploring!
So if you haven't yet visited a food market then we cannot recommend it enough, we receive inspiration for our wedding catering Oxford from stalls and dishes that we taste at local markets as well as international. Start off small and visit your local markets before branching out and visiting ones around the globe.
We hope that this article was helpful, if it was then why not share on social media?