Halloween is one of our favourite time of years! It's the perfect season to experiment with unique dishes and celebrate with your friends and family. But what good is a Halloween party without the spooky Halloween food ideas to match?
Why Use Halloween Food Ideas?
If you are thinking of holding a Halloween bash this year, Halloween themed food can set the mood, wow your guests and show them all of the efforts you have put in. As well as this, if you're a food lover, it's the perfect excuse to experiment with cooking and to whip up some unique, delicious dishes!
Halloween has been a yearly tradition for over 2,000 years. It used to be a tradition held every year due to the transition of summer weather into the cold, dingy weather – that at this time was associated with sickness and death. Because of this, people used to dress up to scare off ghosts and carry out traditional acts such as carving pumpkins and lighting bonfires. Over time the tradition has evolved to be slightly less dramatic and is now just a fun celebration celebrated yearly. Some people choose not to celebrate Halloween and think it's a waste of time, but we think it's an excellent opportunity to celebrate! Which is why we have devised a list of some of the best Halloween food ideas to serve guests at your own Halloween celebration! So keep reading!
Pumpkin Rice Krispie Treats
Always a hit with the kids! Rice Krispie treats have been a favoured recipe for years now, they are simple and require no preparation – as well as minimal cooking time! Which is why they are often made with young children and enjoyed with them, because they are simple and delicious! If your child wants to help prepare for a Halloween party, why not get them in the spirit by letting them help you make these easy and minimal mess treats!
By combining Rice Krispies with marshmallow and orange food colouring, you have the perfect round replica of a pumpkin! Finish off this food idea by decorating your pumpkin to your choice. Check out the full recipe here!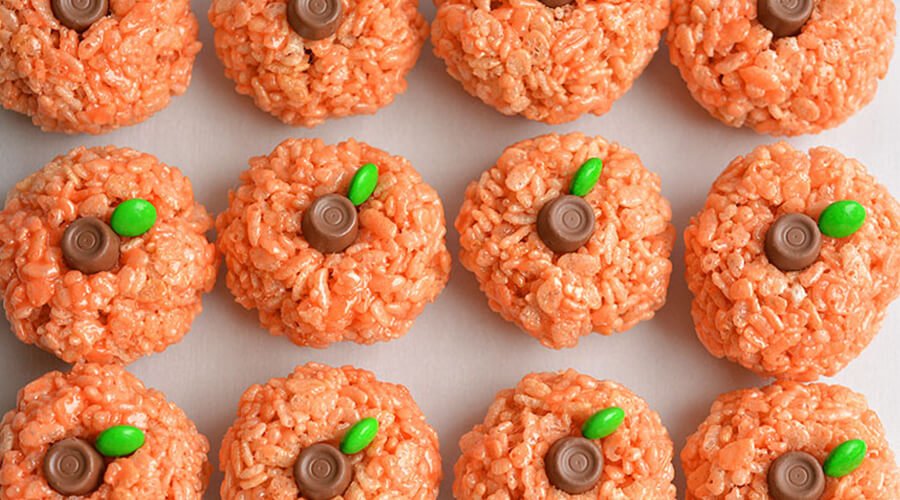 Cheese And Pretzel Broomsticks
If your thinking of holding a buffet for your guests, these are the perfect starter. A comical and delicious imitation of a witches broomstick, these little appetisers make the perfect addition to any Halloween themed event!
If you also want to serve unique, delicious dishes with minimal preparation, these are perfect! Simply chop up a mozzarella cheese string and slice it to replicate the bottom of a broom. Then attach a straight salted pretzel and seal it together with a tied up piece of chive! Simple but effective – and delicious! Take a look at the full recipe here.
Candy Apples
Candy apples have been a Halloween tradition for years! This is because this yearly celebration falls within the time period of the annual apple harvest – which is where the recipe came from! This is also why apples are used in popular Halloween games such as apple bobbing.
Toffee apples are simple enough to make, all you need to do is melt sugar and water in a pan to create caramel, then simply coat your apples in it and leave them to set in the fridge!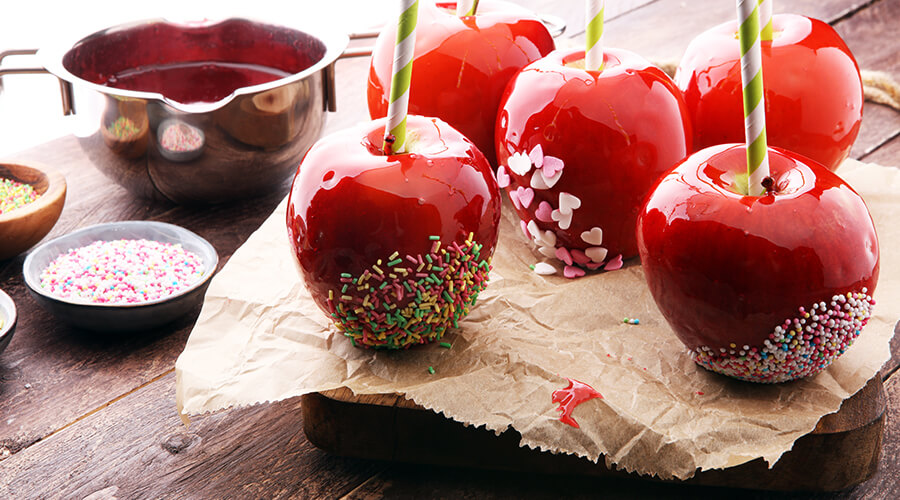 Ghost Pizza Bagels
Simple and delicious! With minimal preparation time, these tasty treats can be made quickly once again if you run out and are a big hit even with the fussiest of eaters. Simply using a bagel, or any bread-based product you wish, cover it in tomato paste and top it off with some spooky shaped mozzarella. Before making the bases for your pizza, cut your mozzarella into spooky ghost shapes to prepare them for cooking on the pizza.
Try and be as precise as possible, or use a shape cutter as mozzarella melts when heated! Cutting up a tiny bit of olive you can make the tiny beady eyes for your ghosts. Check the full recipe here!
Ghost S'mores Dip
S'mores are a sweet treat perfect for any Halloween event! Something that makes the process a lot more fun is the toasting of the marshmallows, and can normally be entertaining for young children – with a hand from an adult of course!
All you have to do in this quick and straightforward show stopper is make a marshmallow dip! The website has a step-by-step guide. Once your marshmallows are toasted to perfection in the oven, use chocolate chips and eyes for your spooky ghouls, then serve up with digestives! See here for the full recipe!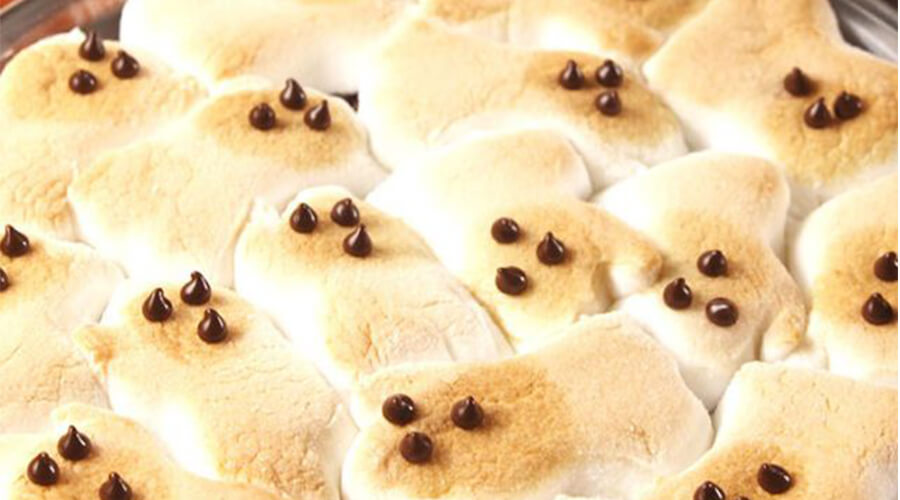 Frozen Hand Punch
Although this isn't a food dish, we couldn't miss it out of our list of favourite Halloween dishes! This spooky punch is sure to wow your guests and can be made to suit both children and adults!
All you need to do is find a rubber glove, preferably the ones used in food preparation or that dentists and doctors use. Fill it with water and freeze it over night. Then begin your punch preparation, one this is done drop in your frozen hand and you have a delicious, Halloween themed punch for all of your guests! See the full preparation guide here!
Blood Red Velvet Cake
And who doesn't love cake? Cake is often found at every kind of celebration, so what would your Halloween part be without one? Put a scary twist on your typical cake by making a blood red velvet cake.
The strong, bright red that is commonly found in red velvet cake makes it the perfect flavour to accompany the rest of your Halloween dishes. Finish your cake off with red icing, and for added effect, you can even stick a knife in the middle just like Say It With Cake did! Take a look at their blood red velvet cake here.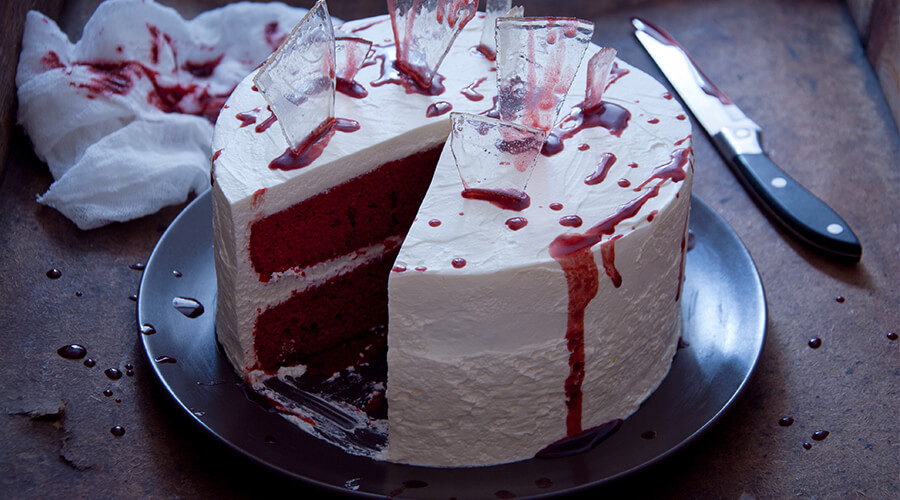 Start Planning The Menu For Your Halloween Party!
Now you have some inspiration; it's time to start planning the catering for your own Halloween party! If your party is on a large-scale you may want to consider catering services Aylesbury as cooking for a large group of people can be difficult as well as stressful.
For any more wedding catering or corporate events catering Northampton, please contact our team today to preview our menu! We hope that this article was helpful, if it was then why not share on social media?