It's got to the time of year when it's time to begin thinking about all of your favourite foods and treats!
What Are The Best Festive Foods?
Festive foods are fantastic; there are so many different types that are brought out in the shops during the festive period. It can be difficult to do the food shop without picking up some of your favourite festive treats! During the lead up to Christmas, a lot of people tend to put their diets and healthy eating routines on hold so they can scoff and enjoy their favourite dishes.
And what would Christmas day be without a Christmas dinner? Christmas dinner is a well known, well-loved tradition in the UK. It's what we all look forward to at the end of the day after plenty of festive celebrations. We all know the main components that make up a delicious traditional Christmas dinner, but what are the other delicious festive treats? We've composed a list of the best festive treats to enjoy this year throughout the festive season, so keep reading!
Pigs In Blankets
Top of our list has to be our all-time favourites; we serve them as part of our corporate events catering Aylesbury on our festive menu! Pigs in blankets are a common additive on Christmas dinner; it's a shame that they aren't sold all year round!
The first recipe found for pigs in blankets was in a children's cooking book created by Betty Crocker in 1957. Although these recipes often involve small cocktail sausages wrapped in pastry, biscuit or croissant pastry. However, the common pigs in blankets that we eat in the UK during Christmas are small sausages wrapped in crispy bacon. Pigs in blankets are a widely loved festive treat and are eaten during the lead up to Christmas as well as with Christmas dinner; they had to be top of our list!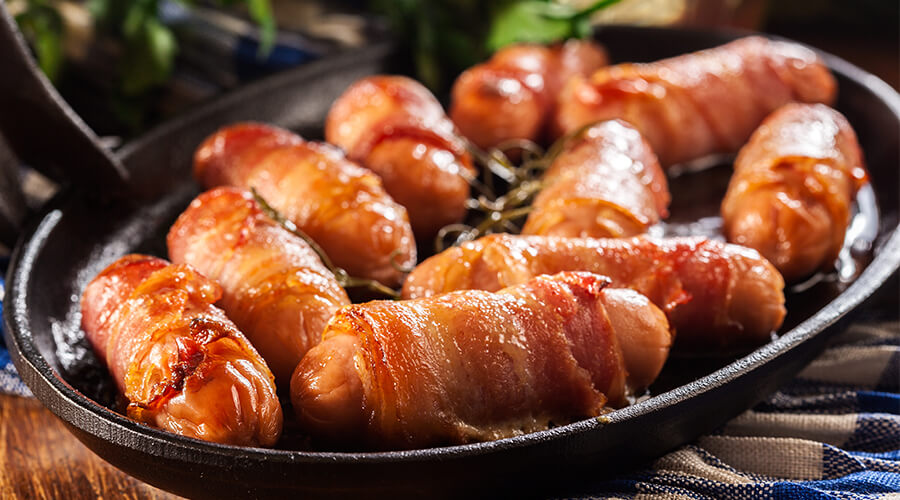 Eggnog
Although it's not a dish or food, we had to include eggnog on our list! Although there is no exact known trace of the history of eggnog, many people agree that the original recipe and invention came from medieval Britain from a drink called 'posset'.
Posset was a warm milky ale-like drink that was widely consumed throughout the UK. By the 13th century monks often drank posset accompanied with eggs and figs, which is how eggnog slowly was born. The reason that this drink is so popular during the festive period is that it was often drunk during the cold weather. People would include things such as nutmeg, cinnamon and expensive liquors like brandy and sherry to keep it from going off, which is why it's now drunk during cold weather leading up to Christmas!
Mince Pies
Mince pies have been around since the 13th century and are still enjoyed to this day. Their history stems off from the returning crusaders who brought back middle eastern recipes that were made up of a mixture of meats, fruits and spices.
This combination of the mince pie filling was given the name of 'mincemeat', but the pie crust that is teamed with the filling is a British invention that came along a few years later. Mince pies are often associated with Christmas time as it's been believed for years that they're Santa's favourite midnight snack, and they're still left out for him every year by millions of young children! As well as this, the round shape of a mince pie is because they were made in an oval shape to replicate the manger that Jesus slept in as a baby.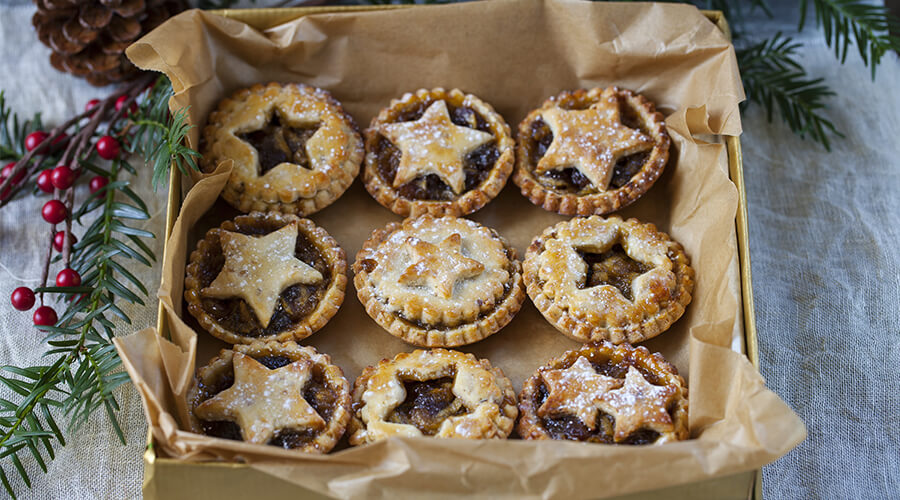 Yule Log
A yule log is originally a Nordic tradition that involved the burning of an actual yule log. Over the years they've created a recipe that imitates a yule log and tastes delicious! Made out of sponge cake, its shape is made to resemble an actual yule log, and the chocolate, dark brown colour mimics the darkness of a log.
It's a type of sweet roulade that originates from the 19th century. It's typically made from genoise, which is then baked in a shallow, large Swiss roll pan. It is then iced and rolled out to form a cylinder shape, and then iced again on the outside. To fit the Christmas theme, it's often topped with icing sugar and holly leaves.
Mulled Wine
For those who do enjoy a nice drink over the Christmas period, we had to include this delicious treat. One of the oldest Christmas treats around, mulled wine has existed since the 2nd century! It was created by the Romans who used to heat up wine in the belief that it would protect their bodies during the cold winters.
As they conquered a lot of Europe and travelled around, their love for mulled wine became passed on to other countries. Similar to the reasoning of eggnog, mulled wine is also drank during the Christmas period due to the cold weather, and don't worry there are alcohol-free versions available!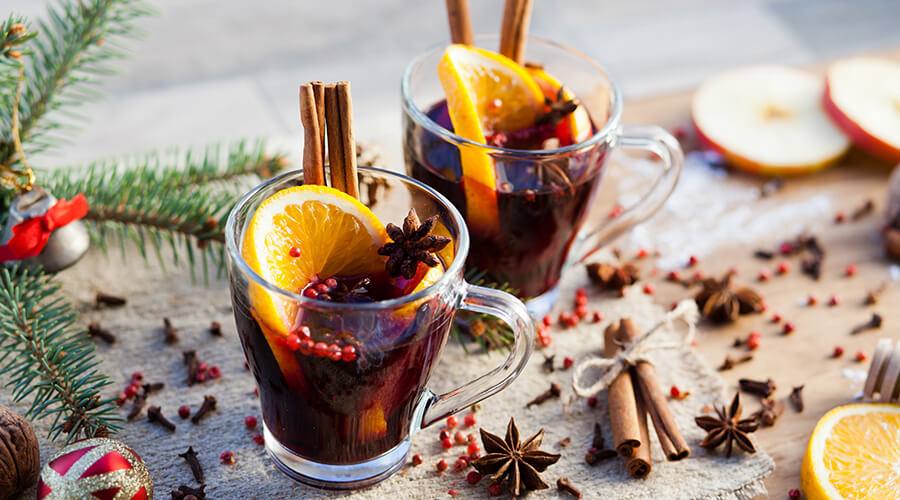 Christmas Pudding
Christmas pudding is a British tradition that still takes place continuously to this day. It has a number of names and can be found in the old Christmas song 'we wish you a Merry Christmas' included in the line 'now bring us some figgy pudding'. Figgy pudding is Christmas pudding, but just a version that is created with baked figs.
There are many versions of the Christmas pudding, but the most popular is the traditional one. It has been around since the 14th century and originally was named 'frumenty' and was made up of beef, mutton, raisins, prunes, wine and currants. Christmas pudding is often drizzled in alcohol, as well as this; a silver coin was normally cooked into the Christmas pudding or hidden in it. Whoever found the silver coin in their serving was told they would be brought luck and good fortune.
Stock Up On Your Favourite Festive Treats!
And as we approach December, it is almost time to start stocking up on your Christmas treats! Pick up some of the things we've mentioned for a traditional Christmas celebration, or why not wow your friends and family with the surprise of a lit Christmas pudding?
For any more information on catering Milton Keynes, please contact a member of our team today! We hope that this article was helpful, if it was then why not share on social media?