Spicy food isn't for everyone, you either love it or hate it. For some cultures across the world however, spice is incorporated into the vast majority of their dishes. So what is the best spiciest food? We've taken a look at cuisines from across the globe and have compiled a list of the hottest recipies you could hope to find.
The Best Spiciest Food
Spicy food is enjoyed from all corners of the world, from mild chilli chocolate to hair raising vindaloo. Recipes have originated and been altered around the globe for hundreds of years; some countries are even recognised for their love of spice and delicious chilli-based dishes. Here at The Rub, we love spice! In fact, experimenting with different spices and levels of hotness is one of our favourite past-times!
So if you are a fellow lover of spicy food, you're in for a treat. We have listed some of the hottest, mind blowing dishes from across the world that are a must try. Be aware that some of these dishes are excruciatingly hot, so eat with caution!
Kimchi Jigae
This is a stew-like dish that originates from Korea. Its sole ingredient is Kimchi, which is fermented cabbage. It also contains other elements such as onions, scallions, pork, diced tofu and seafood.
The original form of Kimchi was simple pickled vegetables, but evolved into the kimchi we know and love today when chilli peppers were introduced in to the country. It was around this time that the Jigae recipe was formed. Kimchi used in this dish is formed when cabbage is left to ferment for a long period of time, resulting in the presence of high quantities of 'good' bacteria. Because of this, it gives the dish a much stronger flavouring due to older and longer fermented kimchi. It's important to remember that the sole ingredient in this dish is kimchi, any other ingredients added to the stew are typically based on personal preferences.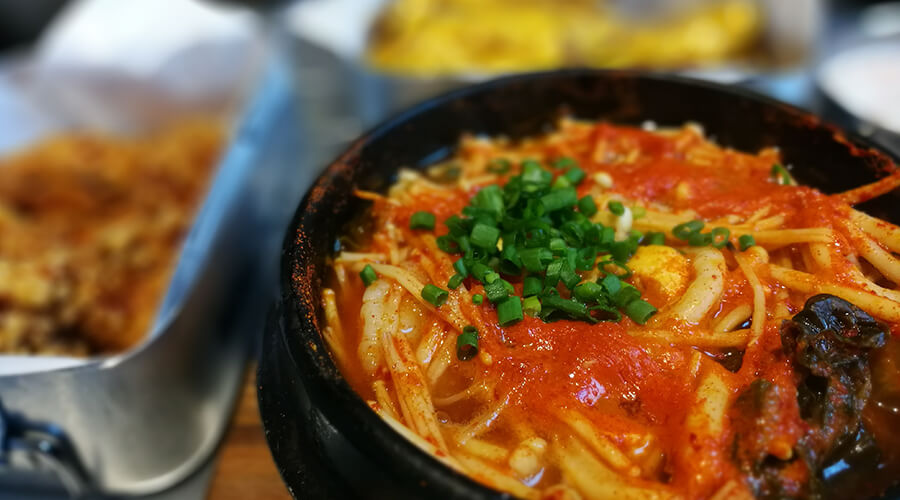 Otak Otak
Otak Otak seems like a harmless dish, a delicious fishcake prepared just like the ones in the UK, except these pack a much more flavoursome punch. Made up of ground fish, combined with tapioca starch and spices, you can find this dish mainly in Southeast Asia, including Malaysia, Indonesia and Singapore. Instead of being served on a traditional plate, it has a more authentic feel and will traditionally be served up in a freshly grilled or steamed banana leaf.
However, if the spice doesn't put you off trying this authentic dish, the name might do. Otak translates to 'brains' in Indonesia and Malay. It stemmed from the ideology that the Otak Otak dish resembled brains with its squishy texture and soft grey appearance. Although, if you're eating the spicy kind, your Otak Otak should appear a red or orange colour, due to the ground up dried chillis, so have a glass of milk ready!
Phaal Curry
Phaal is a British Asian curry dish which was created in British Bangladeshi restaurants. Its place of birth is Birmingham in the UK, where it was officially served up to guests looking to face a heat challenge. Although, many taste testers were overly surprised by the heat and spiciness level of the Phaal curry. It has been crowned the hottest curry and is not even served in some Indian restaurants and takeaways.
With its multiple spellings, Phaal is even hotter than the vindaloo curry which is a commonly eaten dish here in the UK, and has even been known to cause people to have hallucinations. Prepared with an incredible amount of ground up chilli peppers, or sometimes even scotch bonnet or habanero chillis, this dish is most definitely not for the faint-hearted. The tomato based thick style curry also includes ingredients like ginger.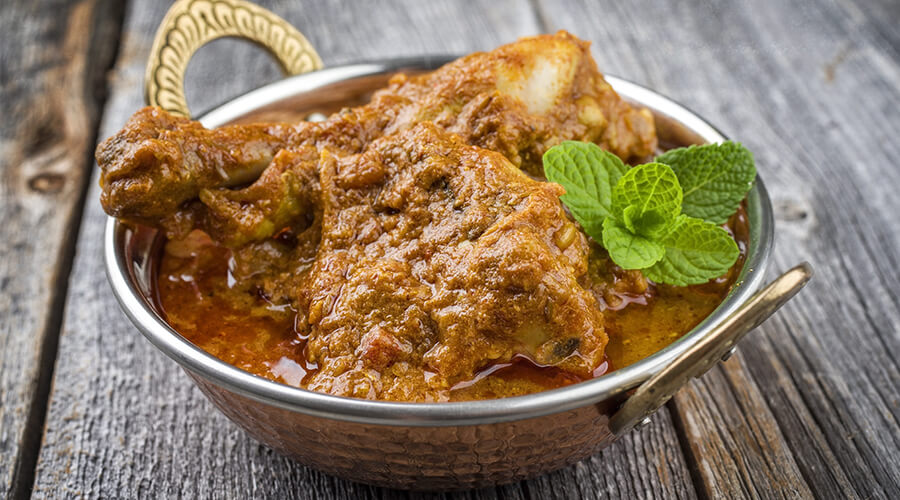 Jamaican Jerk Chicken
Jerk is a form of terminology that states the way a piece of meat or even vegetable is seasoned and cooked. The jerk style of cooking originates from Jamaica and includes the method of using a marinade or paste that includes pimento, which is often alternatively called, allspice. This concoction also contains exceptionally spicy peppers such as scotch bonnet or habanero.
Once all of the appropriate ingredients are added, the meat is then laid over pimento wood and smoked for numerous hours. According to most people, the word 'jerk' is a Spanish word that comes with the Peruvian word charqui, meaning dried strips of meat. It then evolved, and 'Jerking' became the process of poking holes into the meat for it to absorb as much flavouring as possible, creating Jamaican jerk chicken!
Shrimp Creole
Although it has a French and Spanish heritage, the shrimp creole's birthplace is Louisianna in the USA. It consists of shrimp cooked in a mixture of either diced or whole tomatoes, onions, celery, bell peppers, and then yes, you guessed it, hot pepper source or cayenne seasoning.
This traditional dish combines gumbo and jambalaya with its own unique twist. Although shrimp creole is typically thicker and a great deal spicier than gumbo, as with jambalaya, a bed of rice accompanies the dish. It also has no broth, it is more of a sauce and is simmered to a desired level of thickness. Apart from the main ingredients we previously mentioned, you can add anything to creole dependant on your own tastes and preferences.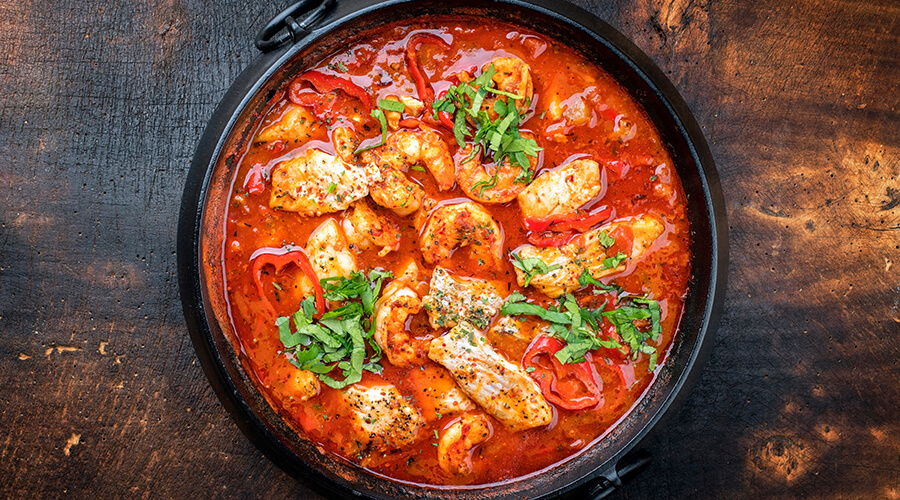 Sik Sik Wat
Sik Sik Wat is a traditional Ethiopian dish. Wats are known as stews and a sik sik wat is a beef stew combined with a rich and very spicy red pepper sauce. The bits of beef are often cut into cubes, then left to stew with other ingredients such as ginger, fenugreek, ginger, nutmeg and allspice.
It is then finished off with tomato puree and a dash of wine for the ultimate flavour experience. The berbere and black pepper cause the spice, it's a traditional Ethiopian mixture of spices that include dried long and red chillies, spiciness is the main component of Ethiopian dishes and is frequent in the vast majority of recipes.
Pad Phrik Khing
If you aren't a fan of copious amounts of cream and lots of sauce, Pad Prik Khing could be the perfect dish for you. It stems from the Thai curry family tree, except it is drier than typical Thai curries.
The process involves the curry being fried in oil, and lacks liquid coconut milk which is found in a large number of curry recipes. Although, during preparation, you can request the addition of coconut, but it will be heated until it evaporates to just the oil for added flavours. 'Phrik' quite literally translates to chilli peppers, so the name alone suggests that this dish comes along with a big kick of spice. The 'Khing' in the name translates to the word ginger, although this is not used in the dish; the traditional recipe for the curry paste often includes garlic, lemongrass and galangal.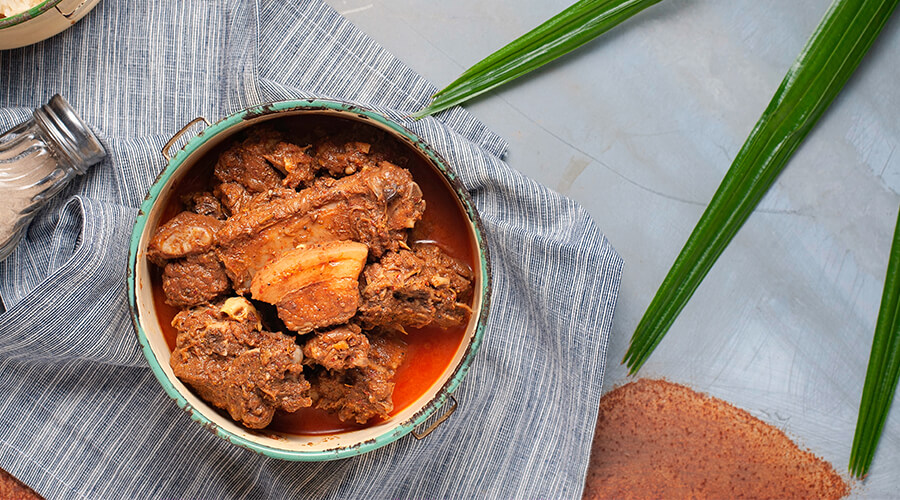 Hot Wings
There are many different variations of chicken wings and hot wings, with one of the most eyewatering being traditional hot wings, known as 'suicide wings' in some cases. Hot Wings were first established in Buffalo, served at a family owned restaurant named the Anchor Bar and given the very fitting name of Buffalo wings. The invention is thought to be courtesy of Teressa Bellissimo after she received a shipment of chicken wings instead of the chicken parts that they had actually ordered.
Unsure what to do with them, her husband suggested throwing them out, although this would be a tremendous waste of perfectly good food. She realised this and decided to work with what she had. She marinated them in her own signature sauce and served them up with blue cheese and celery as a side as it's all she had to work with. They became so popular in the area that they quickly shot to fame, and they're now available widely throughout America. One of our favourite meats to work with is chicken wings, and they're even on our menu! Take a look at our menu on our website or book us in for birthday party catering in Oxford.
Sichuan Huoguo
Translated to hotpot, this is a classical Chinese style of cooking. Often a pot brimmed to the top with different flavours is left to simmer in the middle of a dining table, surrounded by numerous different ingredients and side dishes. While the pot is left to stew, ingredients are added to the stock and also prepared tableside, similar to the process of fondue.
Typical hot pot dishes combine ingredients such as vegetables, mushrooms, thinly sliced meat, egg dumplings, tofu and even seafood. In the case of Sichuan Huoguo, chillis and other spices that will leave you struggling to finish your serving are also often added. Hot pots are thought to be so popular in China as they're sociable and family friendly. By this, we mean that while gathering around the dinner table, it gives family and friends a chance to converse. It is also said that the warm air makes people feel more comfortable.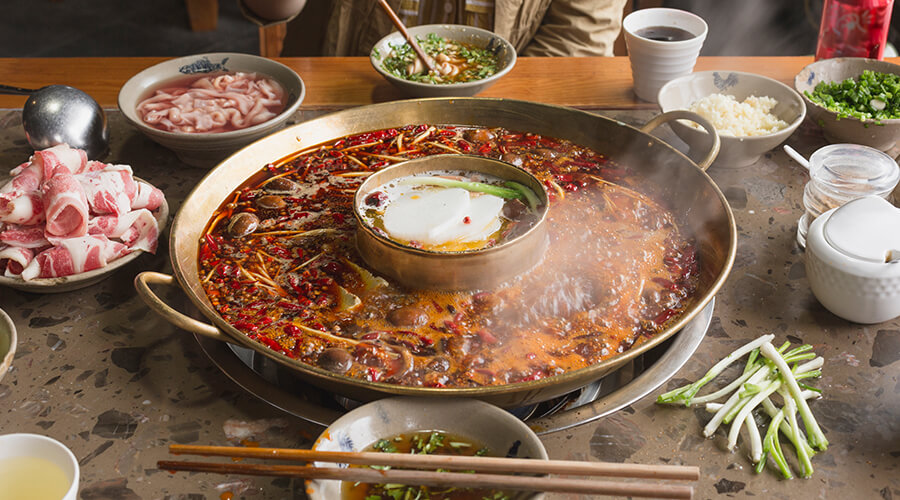 Papa A La Huancaina
This dish originates from Peru and is a common appetiser that is made up of yellow boiled potatoes. These are then topped with a very spicy, yet creamy sauce given the name Huancina sauce. However, although the dish is named after a prominent location in Peru called Huancayo, its actual birthplace is Lima.
Unlike the rest of the dishes we have mentioned in this article, this dish is served cold usually as a starter over a bed of lettuce leaves, where it is then coated in white corn kernels, black olives and hard-boiled egg quarters. The Huancaina sauce is made up from a combination of vegetable oil, yellow Peruvian pepper, salt, queso fresco and evaporated milk, all blitzed up in a blender. Due to its simple preparation and cold presentation, this dish is particularly popular for days out and family picnics.
Test Out Some Of The World's Spiciest Dishes
Now that you are aware of the spiciest dishes around the world, it's time to put them to the taste test! We love travelling around the world and trying out dishes that are native to us here in the UK. However, you do not always need to leave the country to try an authentic dish from different countries, as plenty of food markets and street food vendors are full of talented chefs giving customers a taste of their own country!
For more information on our wedding catering services in Aylesbury or special occasions catering in Berkhamsted, please feel free to contact a member of our team today! We hope that this article was helpful, if it was then why not share on social media?